Family Worship
Family Worship
Tot Shabbat
Joining us for Tot Shabbat (usually first Friday of the month) is a great way for you to get to know your community while celebrating Shabbat. Friday evening Tot Shabbat service starts 5:30pm and is followed by a community dinner (RSVP required). We also offer Tot Shabbat on select Saturday mornings at 11:15am, followed by a community oneg. Enjoy a short, child friendly service and then settle in for a schmooze while the children play — all are welcome! Make sure to check our calendar for upcoming Tot Shabbat dates.
Friday Night Shabbat B'yachad - Shabbat Together
Shabbat B'yachad is a family worship service and community dinner that brings together our entire TOS family every month. A satisfying dinner for both children and adults follows our Tot Shabbat Service after which we join for family services featuring Ansin Religious School students and our Shabbat Band led by David Sparr. Mahkelah Youth Choir and the Adult Choir often add their voices in songful prayer. Evening draws to a close chatting over coffee and dessert with old and new friends. A wonderful way to catch your breath, greet the Shabbat Angels and start a stress free weekend. Relax! It's Shabbat.
Saturday Shabbat Morning B'yachad
A morning of community and learning!
All ages, stages & backgrounds welcome! Warm up with coffee and bagels, study a little Torah, enjoy our Shabbat morning or Tot Shabbat service, and stay for Kiddush lunch. Child care is available if the little ones need a break Come when you can, leave when you need to. Everything you love about Shabbat B'yachad...in the MORNING!
Thu, December 8 2022
14 Kislev 5783
Upcoming Events:
There are no upcoming events at this time.
About Ohabei Shalom
Progressive in attitude yet traditional in practice, Temple Ohabei Shalom is an inclusive Jewish community committed to nurturing, sustaining, and touching Jewish lives through lifelong learning, joyful worship, and repair of the world in word and deed.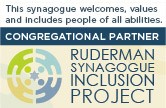 Contact Us
Our phone lines are open daily from 9:00am- 5:00pm.

If a lifecycle emergency occurs after hours, please call: 617.651.0585
Thu, December 8 2022 14 Kislev 5783