Family Education
Family Education
Intergenerational Learning
Funded in part by Combined Jewish Philanthropies, Family Education at Temple Ohabei Shalom has three principal objectives.
· to help congregants find those aspects of Judaism that are personally meaningful and inspiring to them
· to strengthen family and community connections to Judaism
· to encourage Jewish learning at all levels
We accomplish these objectives through formal educational programming and by providing support and Jewish resources to families on a one-to-one basis. Family Education is an important part of our curriculum because we realize that the home and the school are jointly responsible for a child's Jewish education.
Parallel learning for parents, along with shared family educational experience, is proven to be a tremendously effective tool toward positive Jewish identity-building that also form a bridge for parents and students into the world of life-long learning. Imagine comparing notes with your child about the class discussions you have in common. Imagine how many terrific Jewish memories you can build, sharing creative, interactive family programs (parents, students and teachers) during the school year!
All ages
Tot Shabbat
Tot Shabbat is a great way for you to get to know your community while celebrating Shabbat. Friday Evening Tot Shabbat with Music Educator, Josh Cohen and Youth Engagement and Administration Coordinator, Cassie Samuels starts at 5:30 pm. During the school year, we often pair our Saturday morning Tot Shabbat with play dates for even more fun. Watch our schedule for specifics.
Tot Shabbat is a short, child friendly service, filled with music, wiggling and lots of fun. Feel free to contact Cassie Samuels or call the Education Office at 617.264.2801 with any questions.
Shabbat B'yachad-Shabbat Together (Monthly on select Friday evenings)
Shabbat B'yachad is a family worship service and community dinner that brings together our entire TOS family every month. A satisfying dinner for both children and adults follows our Tot Shabbat Service after which we join for family services featuring Ansin Religious School students with various classes and students taking lead roles with our Shabbat Band led by David Sparr. Members of the Adult Choir often add their voices in soulful prayer.
Evening Schedule
5:30 pm Tot Shabbat in Montague Chapel
6:00 pm Community Dinner in Penn Spero Hall (RSVP required)
7:00 pm Erev Shabbat Services in Montague Chapel
8:00 pm Community Oneg in Lissner Hall
The evening draws to a close chatting over coffee and dessert with old and new friends. A wonderful way to catch your breath, greet the Shabbat and start a stress free weekend. Relax! It's Shabbat.
Shabbat Morning B'yachad-Shabbat Morning Together (Monthly on select Saturday mornings)
A morning of community and learning!
All ages, stages & backgroun
ds welcome! Come when you can, leave when you need to.
Warm up with coffee and bagels, study a little Torah, enjoy our Shabbat morning or Tot Shabbat service, and stay for a Kiddush lunch. Free child care is available if the little ones need a break!
10:00-10:25 Warm up with coffee, bagels and lox, and conversation
10:00-12:00 Free Child Care
10:25-11:10 Torah Study – Everyone is welcome – no background or Hebrew knowledge necessary.
11:10-12:00 Shabbat morning service
11:15-11:45 Tot Shabbat (Leibovitch)
12:00-1:30 Kiddush lunch
Everything you love about Shabbat B'yachad...in the MORNING!
Wed, September 28 2022
3 Tishrei 5783
About Ohabei Shalom
Progressive in attitude yet traditional in practice, Temple Ohabei Shalom is an inclusive Jewish community committed to nurturing, sustaining, and touching Jewish lives through lifelong learning, joyful worship, and repair of the world in word and deed.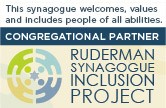 Contact Us
Our phone lines are open daily from 9:00am- 5:00pm.

If a lifecycle emergency occurs after hours, please call: 617.651.0585
Wed, September 28 2022 3 Tishrei 5783