You, The Jury
Thursday, November 21, 2019
•
23 Cheshvan 5780
7:00 PM - 8:30 PM
Lissner Hall
Thursday, November 21 7:00 pm
Attorneys/past TOS Presidents Len Davidson and Larry Green will present closing arguments. Rabbi/Judge Daniel Schaefer will preside over the session.
This class involves Torah study in a courtroom setting. Class attendees will serve as jurors in deciding the following case following presentation of closing arguments:
Moses' Motion for Reconsideration
Registration not required, but appreciated.
Share Print Save To My Calendar
Thu, August 6 2020
16 Av 5780
About Ohabei Shalom
Progressive in attitude yet traditional in practice, Temple Ohabei Shalom is an inclusive Jewish community committed to nurturing, sustaining, and touching Jewish lives through lifelong learning, joyful worship, and repair of the world in word and deed.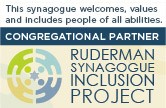 Our Most Recent Blog Posts
Add Me to Your Email List
Thu, August 6 2020 16 Av 5780