Welcome Back Shabbat!
Friday, September 7, 2018 • 27 Elul 5778
5:15 PM - 7:30 PM
We miss you! Let's welcome each other back from the summer with a casual Shabbat gathering on September 7, the Friday before Rosh Hashanah. Weather permitting, we'll be outside for light dinner before services . Rabbi Berkman and our new Assistant Rabbi Schaefer look forward to welcoming you! Here is the evening's schedule:
5:15 Light Dinner (pizza/pickup food)
6:00 Services
7:00 Oneg/wine/cheese/sweets
Everyone is invited. We hope you can join us for the whole evening, but of course you are welcome to come for all or part. If you are joining us for dinner, please RSVP below.
---
Share Print Save To My Calendar
Sun, August 19 2018
8 Elul 5778
Upcoming Events
All Events
TCEE Teacher Meet & Greet


Friday, Aug 24th

4:30p

to

6:00p




Come have pizza with us at the TOS playground and parking lot and enjoy some music and sports activities. Meet our Rabbis, TCEE teachers, and families before we start the new school year together!

S'lichot: Beginning to Return: A S'lichot program of reflection and music


Shabbat, Sep 1st

7:30p

to

9:00p




Join us as we officially welcome the season of teshuvah (repentance and return). Connect with others, connect with yourself, and connect to the beauty of our tradition which offers us the continual opportunity for transformation and growth.

Welcome Back Shabbat!


Friday, Sep 7th

5:15p

to

7:30p




We miss you! Join us for a casual Shabbat get together. We'll have a chance to welcome each other back from the summer before Rosh Hashanah. If we can we'll be outside for snacks. Rabbi Berkman and our new Assistant Rabbi Schaefer look forward to welcoming you!

Rhythm 'n' Ruach Preschool Music


Wednesday, Sep 12th

1:15p

to

Wednesday, Dec 5th

2:00p




This interactive, high energy music program for children ages 2.5 - 5 yrs will give your child a strong connection to Judaism through music, movement, yoga, drumming, and dancing. Children and parents/caregivers will love this moving and grooving class featuring upbeat music, rhythm instruments, and songs that are guaranteed to be on the lips and in the hearts of your children throughout their growing years. 9 sessions (September 12 - December 5 - closed 9/19, 11/7, 11/21, and 11/28.)

High Holy Days Meditation Retreat: Touching the Spirit Within


Shabbat, Sep 15th

12:00p

to

4:00p




You are invited to take a journey. Together we will accept what is with gentleness and compassion. Come along and open your heart for a day of reflection during the High Holy Days. The program includes sitting and walking meditation, Jewish text study, mindful eating in silence and more.
Join us for Shabbat services
About Ohabei Shalom
Progressive in attitude yet traditional in practice, Temple Ohabei Shalom is an inclusive Jewish community committed to nurturing, sustaining, and touching Jewish lives through lifelong learning, joyful worship, and repair of the world in word and deed.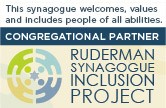 Sun, August 19 2018 8 Elul 5778