Transformational Torah: Learning Torah for the Inner and Outer Self with Ryan Leszner
Thursday, January 23, 2020
•
26 Tevet 5780
6:30 PM - 8:00 PM
Lissner
Also meets: January 30th
This course will focus on Jewish texts from Rabbinic sources, Mussar, and modern sources, as a way to discuss our responsibility to the world around us and to ourselves. We will talk about Jewish responsibility, current social justice issues, ethics, and how we can use a Jewish approach to individual and communal change. Come to one or come to both!
Share Print Save To My Calendar
Sun, September 27 2020
9 Tishrei 5781
About Ohabei Shalom
Progressive in attitude yet traditional in practice, Temple Ohabei Shalom is an inclusive Jewish community committed to nurturing, sustaining, and touching Jewish lives through lifelong learning, joyful worship, and repair of the world in word and deed.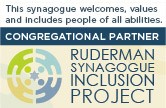 Contact Us
Our phone lines are open daily from 9:00am- 5:00pm.

In case of a lifecycle emergency occurs after hours, please call: 617.651.0584
Sun, September 27 2020 9 Tishrei 5781