TOS Talks: Israelis & Palestinians Choosing Peace
Thursday, October 25, 2018 • 16 Cheshvan 5779
7:30 PM - 9:00 PM
Chapel
An Evening with David Broza & Ohad Elhelo
A different perspective on Israeli/Palestinian relationships: working together and playing in harmony, a discussion of entrepreneurial ventures and musical collaborations, featuring Israeli singing superstar David Broza and business visionary Ohad Elhelo.
TOS Talks. Big Ideas. Great Thinkers.
TOS Talks brings Great Thinkers to share their Big Ideas from the fields of art, culture, ethics, health, religion, science, and politics, followed by provocative Q & A's to continue the conversation.
Join us for a talk, conversation and a reception.
Tickets are: $10 members, $15 guests, $5 seniors, students free
---
OUR GUESTS:

While a junior in college, Ohad Elhelo founded Our Generation Speaks (OGS). OGS is a fellowship program and startup incubator whose mіѕѕіоn іѕ to bring together young Israeli and Palestinian leaders through entrepreneurship to change facts on the ground, develop relationships of trust and build a shared future for the region. In 2016, he initiated partnerships between OGS and the Heller School for Social Policy and Management and MassChallenge to launch the fellowship program. To date, the venture has raised over $8 million.
He was selected for Forbes Magazine's annual "30 Under 30" list in 2018 in both Israel and the U.S., which recognizes business visionaries who are younger than 30 years old. He has been featured as a speaker at universities, synagogues, and in public forums across the United States.
Israeli superstar David Broza is considered one of the world's most dynamic and vibrant performers. From his whirlwind finger picking to Flamenco percussion and rhythms, David Broza's charismatic and energetic performances have delighted audiences worldwide. Since "Yihye Tov" first hit the airwaves in 1977, Broza's music has reflected a lifetime dedicated to peace and greater human understanding.
David Broza's latest project is a new documentary film and companion album East Jerusalem/West Jerusalem. Blending cultures, languages and styles, Israeli and Palestinian musicians come together for 8 days of music and song, resulting in a powerful statement about collaboration and coexistence.

---
Share Print Save To My Calendar
Fri, February 22 2019
17 Adar I 5779
Help make TOS events the best they can be!
Click here to sign up to a volunteer for upcoming events.
Join us for Shabbat services
Lifelong Learning

The 2018-2019 Adult Education Catalog is here! Download and print it to see our offerings for the year or go to our Lifelong Learning web page.
Upcoming Events
All Events
HomeBASE February Vacation Camp!


Tuesday, Feb 19th

8:00a

to

Friday, Feb 22nd

6:00p




Hannah Arendt: Controversy and Thought with Amos Lassen, Ph.D.


Thursday, Feb 28th

7:00p

to

9:15p




Hannah Arendt covered the trial of Eichmann, and what she wrote made her the most reviled Jewish thinker since Spinoza. We will examine the controversy to see how we view it in today's context.

Shabbat B'yachad


Friday, Mar 1st

5:30p

to

8:00p




The Book of Judges: From Unity to Chaos on the Road to Monarchy


Wednesday, Mar 6th

6:30p

to

8:30p




The Book of Judges contains some of the most dramatic episodes in the bible. It is part of the Deuteronomic History that begins with Deuteronomy itself and continues through Second Kings, with the fall of Jerusalem and the end of the Davidic monarchy. The goals of the course are to engage in a close reading of the texts and to discover a hidden political agenda that underlies much of the Hebrew Bible.

Monthly Women's Rosh Chodesh Group


Wednesday, Mar 6th

7:30p

to

9:00p




Come celebrate the beginning of each new Jewish month with women of all ages from 13 - 113. We'll have the chance to schmooze, learn, enjoy activities and just connect with one another, offering a variety of ways into Jewish learning, community and living.
About Ohabei Shalom
Progressive in attitude yet traditional in practice, Temple Ohabei Shalom is an inclusive Jewish community committed to nurturing, sustaining, and touching Jewish lives through lifelong learning, joyful worship, and repair of the world in word and deed.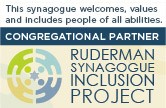 Fri, February 22 2019 17 Adar I 5779