TOS Annual Congregational Meeting
Tuesday, June 5, 2018
•
22 Sivan 5778
7:00 PM - 8:30 PM
Lissner
Let's take the opportunity to thank the volunteers who take on the awesome responsibility of leading the Temple and get acquainted with the new Board of Trustees, whose term begins on Wednesday June 6. To get a preview of our new 2018-2019 trustees, go here.
Share Print Save To My Calendar
Sat, June 6 2020
14 Sivan 5780
Our Most Recent Blog Posts
Add Me to Your Email List
About Ohabei Shalom
Progressive in attitude yet traditional in practice, Temple Ohabei Shalom is an inclusive Jewish community committed to nurturing, sustaining, and touching Jewish lives through lifelong learning, joyful worship, and repair of the world in word and deed.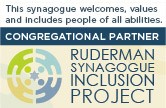 Sat, June 6 2020 14 Sivan 5780