The Climate Crisis: What's Our Role in 2020?
Tuesday, January 28, 2020
•
2 Sh'vat 5780
7:00 PM - 8:30 PM
Chapel
Do we really only have 11 years to reverse climate change? Should we recycle, compost, and switch from fossil fuels — or demand policy change from countries and corporations? Join TOS members Kelly Levin (pictured right), a climate policy expert at the World Resources Institute, and Alan Christ, (pictured left) principal at Alan Christ Architects, with Mark Dwortzan from Temple Beth Zion's Climate Action Group, to learn more about what's happening at the global level and what we can do locally. RSVP to socialaction@ohabei.org.
Share Print Save To My Calendar
Sun, September 27 2020
9 Tishrei 5781
About Ohabei Shalom
Progressive in attitude yet traditional in practice, Temple Ohabei Shalom is an inclusive Jewish community committed to nurturing, sustaining, and touching Jewish lives through lifelong learning, joyful worship, and repair of the world in word and deed.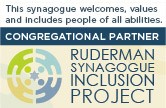 Contact Us
Our phone lines are open daily from 9:00am- 5:00pm.

In case of a lifecycle emergency occurs after hours, please call: 617.651.0584
Sun, September 27 2020 9 Tishrei 5781