The Book of Judges: From Unity to Chaos on the Road to Monarchy with Daniel Deykin, M.D.
Past Sessions
Wednesday, March 20, 2019

•

13 Adar II 5779

-

6:30 PM - 8:30 PM

-

Lissner
Wednesday, March 13, 2019

•

6 Adar II 5779

-

6:30 PM - 8:30 PM

-

Lissner
Wednesday, March 6, 2019

•

29 Adar I 5779

-

6:30 PM - 8:30 PM

-

Lissner
Wednesday evenings, 6:30 pm, March 6, 13, and 20
Wednesday evenings, 6:30 pm, March 6, 13, and 20
The Book of Judges contains some of the most dramatic episodes in the
Hebrew Bible. It is part of the Deuteronomic History that begins with
Deuteronomy itself and continues through Second Kings, with the fall of
Jerusalem and the end of the Davidic monarchy. Judges begins with the
Israelite tribes united under the leadership of Joshua. In a series of short stories and cycles of sinning, punishment, and forgiveness it tells how, after Joshua's death, the tribes display increasing disorder, violence, kidnapping, murder, rape, vengeance and civil war, culminating in their cry for a king. The course will examine the authorship of Judges and its structure by reading selected passages including the enigmatic Gideon and Samson sagas and the horrific events that led to the civil war. The goals of the course are to engage in a close reading of the texts and to discover a hidden political agenda that underlies much of the Hebrew Bible.
Daniel Deykin M.D. is an Emeritus Professor of Medicine and Public Health at Boston University. He has been a member of Temple Ohabei Shalom for more than 50 years. He and a group of fellow Me'ah graduates have met weekly studying Jewish texts with teachers drawn from the Greater Boston religious community. He recently led a seminar on the Book of Judges at the Harvard
Institute for Learning in Retirement.

Share Print Save To My Calendar
Tue, July 23 2019
20 Tammuz 5779
Help make TOS events the best they can be!
Click here to sign up to a volunteer for upcoming events.
Join us for Shabbat services
Upcoming Events
All Events
Community Tisha B'Av Services


Shabbat, Aug 10th

6:30p

to

8:00p




Please join Temple Ohabei Shalom, Temple Sinai, and Temple Israel for a time of reflection. We will meet at Temple Israel.
About Ohabei Shalom
Progressive in attitude yet traditional in practice, Temple Ohabei Shalom is an inclusive Jewish community committed to nurturing, sustaining, and touching Jewish lives through lifelong learning, joyful worship, and repair of the world in word and deed.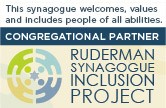 Tue, July 23 2019 20 Tammuz 5779