Soul Cycle: Spiritual Insights into the Jewish Holiday Cycle Taught by Rabbi Daniel Schaefer and Lifelong Learning Intern Ryan Leszner
Thursday, December 12, 2019
•
14 Kislev 5780
6:30 PM - 8:00 PM
Lissner
Select Thursdays, 6:30 pm The cycle of the Jewish year provides us with a road-map for spiritual growth and development. Come nourish your soul with song, meditation, and learning as we journey through the Jewish year. Each session will focus on a couple stories and prayers as we mindfully attune our souls to themes of the season. Come to one, come to some, come to all. Free!

12/12 - Hanukkah - Rededication
1/9 - Shabbat - Peace
2/6 - Tu Bishvat - Seeding
3/5 - Purim - Play
4/2 - Passover - Redemption
4/16 - Israeli High Holy Days - Peoplehood
5/7 - Omer - Ascent
5/21 - Shavuot -Revelation
This class is free and registration is not required, but it is appreciated.
Share Print Save To My Calendar
Sat, June 6 2020
14 Sivan 5780
Our Most Recent Blog Posts
Add Me to Your Email List
About Ohabei Shalom
Progressive in attitude yet traditional in practice, Temple Ohabei Shalom is an inclusive Jewish community committed to nurturing, sustaining, and touching Jewish lives through lifelong learning, joyful worship, and repair of the world in word and deed.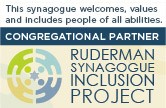 Sat, June 6 2020 14 Sivan 5780