S'lichot: Beginning to Return: A S'lichot program of reflection and music
Saturday, September 1, 2018 • 21 Elul 5778
7:30 PM - 9:00 PM
Chapel
Join us as we officially welcome the season of teshuvah (repentance and return). Connect with others, connect with yourself, and connect to the beauty of our tradition which offers us the continual opportunity for transformation and growth. We will begin with a time to gather over light refreshments, followed by Havdalah and a service which will include music, encounter with sacred texts, and reflection.
Share Print Save To My Calendar
Tue, December 18 2018
10 Tevet 5779
Join us for Shabbat services
Lifelong Learning

The 2018-2019 Adult Education Catalog is here! Download and print it to see our offerings for the year or go to our Lifelong Learning web page.
About Ohabei Shalom
Progressive in attitude yet traditional in practice, Temple Ohabei Shalom is an inclusive Jewish community committed to nurturing, sustaining, and touching Jewish lives through lifelong learning, joyful worship, and repair of the world in word and deed.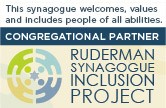 Tue, December 18 2018 10 Tevet 5779