S'lichot: Beginning to Return: A S'lichot program of reflection and music
Saturday, September 21, 2019
•
21 Elul 5779
7:00 PM - 9:45 PM
Chapel
Join us as we officially welcome the season of teshuvah (repentance and return). Connect with others, connect with yourself, and connect to the beauty of our tradition which offers us the continual opportunity for transformation and growth. We will begin with a time to gather over light refreshments, followed by Havdalah and a service which will include music, including our wonderful choir, an encounter with sacred texts, and reflection.
Share Print Save To My Calendar
Fri, August 7 2020
17 Av 5780
About Ohabei Shalom
Progressive in attitude yet traditional in practice, Temple Ohabei Shalom is an inclusive Jewish community committed to nurturing, sustaining, and touching Jewish lives through lifelong learning, joyful worship, and repair of the world in word and deed.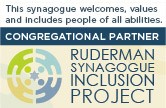 Our Most Recent Blog Posts
Add Me to Your Email List
Fri, August 7 2020 17 Av 5780