Simchat Torah Rocks B'yachad
Sunday, September 30, 2018
•
21 Tishrei 5779
5:00 PM - 8:30 PM
Penn Spero
Something for Everyone
5:00 pm Community Dinner - RSVP here
6:00 Simchat Torah Service featuring Consecration followed by Dancing in the Street and an Oneg
Simchat Torah is the holiday where we celebrate the year-long cycle of reading Torah from beginning to end. This celebration is for all ages! What's the best way to celebrate Simchat Torah?
Singing! Yes, that's why we invited David Sparr, Music Director, Josh Cohen and our amazing Shabbat band!
Dancing! Yes, we'll dance on Beacon Street with the Torah! We will be accompanied by the Klezmer band Too Klez for Comfort.
Community! We will unroll the Torah and surround our entire community in its teachings.
Teaching! We will mark the beginning of another school year. Our grade six children will become our teachers as they find "their" place in the Torah and begin preparations for B'nei Mitzvah.
Chanting! Yes, hear how to chant the last and first verses of the Torah.
Art! Yes, we'll make fun Torah crafts during dinner!
Cookies! Yes, Torah is meant to be sweet so a special Oneg will follow services!
Don't miss Consecration!
For all students beginning formal Jewish education at the Ansin Religious School, we also invite you to participate in consecration this evening. You will receive a gift of Torah and mark this special milestone on the bimah!
Come celebrate the joy of Torah! Picture Coolclips.com)
---
Dinner Registration:
Share Print Save To My Calendar
Tue, June 25 2019
22 Sivan 5779
Help make TOS events the best they can be!
Click here to sign up to a volunteer for upcoming events.
Join us for Shabbat services
Lifelong Learning

The 2018-2019 Adult Education Catalog is here! Download and print it to see our offerings for the year or go to our Lifelong Learning web page.
Upcoming Events
All Events
Community Tisha B'Av Services


Shabbat, Aug 10th

6:30p

to

7:30p




Please join Temple Ohabei Shalom, Temple Sinai, and Temple Israel for a time of reflection as we recall times of destruction and despair throughout Jewish history on Tisha B'Av, the fast day which traditionally commemorates the destruction of the ancient Temple in Jerusalem by the Babylonian Empire in 586 BCE and by the Romans in 70 CE, the expulsion of Jews from Spain in 1492, and other tragedies that have befallen the Jewish people. We will meet at Temple Israel.
About Ohabei Shalom
Progressive in attitude yet traditional in practice, Temple Ohabei Shalom is an inclusive Jewish community committed to nurturing, sustaining, and touching Jewish lives through lifelong learning, joyful worship, and repair of the world in word and deed.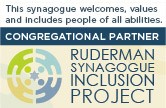 Tue, June 25 2019 22 Sivan 5779