Shabbat Morning B'yachad
Saturday, December 1, 2018 • 23 Kislev 5779
10:00 AM - 1:30 PM
Chapel
---
Also on: January 5, February 9, March 9, April 27, May 11, and June 15.
A morning of community and learning!
All ages, stages & backgrounds welcome! Come when you can, leave when you need to.
Warm up with coffee and bagels, study a little Torah, enjoy our Shabbat morning or Tot Shabbat service, and stay for a Kiddush lunch. Free child care is available if the little ones need a break!
10:00-10:30 Warm up with coffee, bagels and lox, and conversation
10:00-12:00 Free Child Care
10:30-11:15 Torah Study – Everyone is welcome – no background or Hebrew knowledge necessary.
11:15-12:00 Shabbat morning service
11:15-11:45 Tot Shabbat (Leibovitch)
12:00-1:30 Kiddush lunch
Everything you love about Shabbat B'yachad...in the MORNING!
If you would like to host a Shabbat Morning B'yachad just complete the form below.
---
Share Print Save To My Calendar
Fri, February 22 2019
17 Adar I 5779
Help make TOS events the best they can be!
Click here to sign up to a volunteer for upcoming events.
Join us for Shabbat services
Lifelong Learning

The 2018-2019 Adult Education Catalog is here! Download and print it to see our offerings for the year or go to our Lifelong Learning web page.
Upcoming Events
All Events
HomeBASE February Vacation Camp!


Tuesday, Feb 19th

8:00a

to

Friday, Feb 22nd

6:00p




Hannah Arendt: Controversy and Thought with Amos Lassen, Ph.D.


Thursday, Feb 28th

7:00p

to

9:15p




Hannah Arendt covered the trial of Eichmann, and what she wrote made her the most reviled Jewish thinker since Spinoza. We will examine the controversy to see how we view it in today's context.

Shabbat B'yachad


Friday, Mar 1st

5:30p

to

8:00p




The Book of Judges: From Unity to Chaos on the Road to Monarchy


Wednesday, Mar 6th

6:30p

to

8:30p




The Book of Judges contains some of the most dramatic episodes in the bible. It is part of the Deuteronomic History that begins with Deuteronomy itself and continues through Second Kings, with the fall of Jerusalem and the end of the Davidic monarchy. The goals of the course are to engage in a close reading of the texts and to discover a hidden political agenda that underlies much of the Hebrew Bible.

Monthly Women's Rosh Chodesh Group


Wednesday, Mar 6th

7:30p

to

9:00p




Come celebrate the beginning of each new Jewish month with women of all ages from 13 - 113. We'll have the chance to schmooze, learn, enjoy activities and just connect with one another, offering a variety of ways into Jewish learning, community and living.
About Ohabei Shalom
Progressive in attitude yet traditional in practice, Temple Ohabei Shalom is an inclusive Jewish community committed to nurturing, sustaining, and touching Jewish lives through lifelong learning, joyful worship, and repair of the world in word and deed.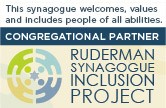 Fri, February 22 2019 17 Adar I 5779