Shabbat Morning B'yachad, Tot Shabbat & TCEE Play Date
Saturday, February 29, 2020
•
4 Adar 5780
10:00 AM - 1:30 PM
Chapel
---
OTHER DATES ARE:
Mar. 21,
Apr. 18, & May 23
A morning of community and learning!
All ages, stages & backgrounds welcome! Come when you can, leave when you need to.
Warm up with coffee, bagels, and lox, study a little Torah, enjoy our Shabbat morning or Tot Shabbat service, and stay for a Kiddush lunch. Free child care is available if the little ones need a break!
10:00-10:25 Warm up with coffee, bagels and lox, and conversation
10:00-12:00 Free Child Care
10:25-11:10 Torah Study – Everyone is welcome – no background or Hebrew knowledge necessary.
10:30-11:15 TCEE Play Dates: Dubim and D'vorim (Toddler Classes)
11:10-12:00 Shabbat morning service
11:15-11:45 Tot Shabbat (Leibovitch)
12:00-1:30 Kiddush lunch for everyone!
Connection. Learning. Community.
If you would like to sponsor a Shabbat Morning B'yachad meal just complete the form below.
---
Share Print Save To My Calendar
Fri, August 7 2020
17 Av 5780
About Ohabei Shalom
Progressive in attitude yet traditional in practice, Temple Ohabei Shalom is an inclusive Jewish community committed to nurturing, sustaining, and touching Jewish lives through lifelong learning, joyful worship, and repair of the world in word and deed.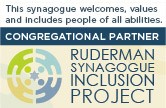 Our Most Recent Blog Posts
Add Me to Your Email List
Fri, August 7 2020 17 Av 5780