March with Us in the Pride Parade
Saturday, June 9, 2018 • 26 Sivan 5778
12:00 PM - 3:00 PM
Either noon in the TOS Chapel or 1:15 @ 800 Boylston St--Details below
March with the TOS community as your most fabulous self in Boston's Pride Parade! Celebrate with us whether you're in the LGBTQIA community or you're an ally. Help us show the greater Boston community what an inclusive and welcoming place we are. Pride is an all ages, inclusive event. Families with young children are welcome and encouraged to participate; we will have fun activities for the "waiting time" before the parade starts. Pride will happen rain or shine! Please prepare for the weather (sunscreen, umbrella, etc.)
Your presence is meaningful no matter how you identify!
IF YOU WOULD LIKE TO MEET @ TOS FIRST & GO AS A GROUP:
Meet Rabbi Berkman at noon in the TOS Chapel for reflection, singing, and to gather our fabulous energy. At around 12:45 pm we will take the "T" together.
IF YOU WOULD LIKE TO MEET DOWN TOWN:
We will be assembling for the parade at 1:15 pm at 800 Boylston St. right in front of the Walgreens at the Prudential Center. We are in section H, group 32, right after Temple Beth Avodah's group.
The total route is a little over 2 miles (including a hill!), so make sure you are ready to walk the whole route. If you or your little ones would like to ride in the truck you are welcome to, but you must stay in the truck for the entire duration of the parade. Having folks get in and out while the parade is underway is a safety hazard.
You are welcome to pick up your t-shirt at TOS during the week or at the parade itself. Huge thanks to HomeBASE for tie-dying them these last few weeks!
Most importantly, this is an opportunity to have fun! Break out any clothing, costume, or make up that makes you feel like your most brilliant, authentic self. Your presence is meaningful no matter how you identify.
Parade Route & General Staging Location
For more information from the organizers of the parade, please go to the parade website.
If you have mobility or accessibility needs please call the office to make arrangements.
Share Print Save To My Calendar
Wed, January 16 2019
10 Sh'vat 5779
Help make TOS events the best they can be!
Click here to sign up to a volunteer for upcoming events.
Join us for Shabbat services
Lifelong Learning

The 2018-2019 Adult Education Catalog is here! Download and print it to see our offerings for the year or go to our Lifelong Learning web page.
About Ohabei Shalom
Progressive in attitude yet traditional in practice, Temple Ohabei Shalom is an inclusive Jewish community committed to nurturing, sustaining, and touching Jewish lives through lifelong learning, joyful worship, and repair of the world in word and deed.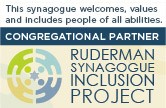 Wed, January 16 2019 10 Sh'vat 5779