Parenting Through a Jewish Lens
Past Sessions
Sunday, April 7, 2019

•

2 Nisan 5779

-

4:30 PM - 6:00 PM
Sunday, March 31, 2019

•

24 Adar II 5779

-

4:30 PM - 7:00 PM
Sunday, March 24, 2019

•

17 Adar II 5779

-

4:30 PM - 7:00 PM
Sunday, March 10, 2019

•

3 Adar II 5779

-

4:30 PM - 7:00 PM
Sunday, February 3, 2019

•

28 Sh'vat 5779

-

4:30 PM - 7:00 PM
Sunday, January 27, 2019

•

21 Sh'vat 5779

-

4:30 PM - 7:00 PM
Sundays from 4:30-6 pm:
January 27, February 3 & 10,
March 10 & 31 Free childcare
$95/person | $155/per couple
(6 sessions)
Registration required, please call 617-277-6610 to register.
TOS Members save $50
Email ars@ohabei.org for your coupon code
Input your coupon code then hit apply in order to receive the discount.
Join a group of fellow parents of children ages 0 to 10 to discuss topics that matter to you as a parent; explore Jewish values that can enrich your family; reflect on the joys and challenges of raising kids today; and find support, encouragement and connection. Parenting Through a Jewish Lens welcomes the participation of interfaith couples and families, and parents of all abilities, backgrounds, and sexual orientations. Childcare and a light dinner will be provided!
Topics include:
• Towards Joyful Parenting
• Infusing Our Lives with Meaning
• Finding Peace in Our Homes
• Shabbat: A Time to Reconnect and Recharge
• Parenting at a Time of Loss
• Parenting for Kindness
Instructor: Rabbi Hillel Greene is an educator at Gann Academy in Waltham, Mass. He formerly served as a rabbinic adviser and Jewish chaplain at Boston College and Northeastern University. He is a graduate of Columbia University and was ordained in 2014 from the Rabbinical School of Hebrew College, An avid reader, Greene is slowly working his way through the complete works of William Shakespeare.

"The idea that Judaism has resources and wisdom to address parenting situations we find ourselves in — that is both comforting and inspiring. Taking this class has been a 'shehecheyanu moment' for me!" — PTJL Participant

Share Print Save To My Calendar
Tue, July 23 2019
20 Tammuz 5779
Help make TOS events the best they can be!
Click here to sign up to a volunteer for upcoming events.
Join us for Shabbat services
Upcoming Events
All Events
Community Tisha B'Av Services


Shabbat, Aug 10th

6:30p

to

8:00p




Please join Temple Ohabei Shalom, Temple Sinai, and Temple Israel for a time of reflection. We will meet at Temple Israel.
About Ohabei Shalom
Progressive in attitude yet traditional in practice, Temple Ohabei Shalom is an inclusive Jewish community committed to nurturing, sustaining, and touching Jewish lives through lifelong learning, joyful worship, and repair of the world in word and deed.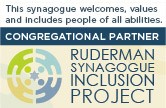 Tue, July 23 2019 20 Tammuz 5779