Monthly Women's Rosh Chodesh Group with Rabbi Audrey Marcus Berkman
Wednesday, February 26, 2020
•
1 Adar 5780
7:00 PM - 8:30 PM
Library
Upcoming Dates: March 25, May 27, and June 17
Come celebrate the beginning of each new Jewish month with women of all ages from 13 - 113. We'll have the chance to schmooze, learn, enjoy activities and just connect with one another, offering a variety of ways into Jewish learning, community and living.
Rosh Chodesh is a 'drop in' group — come to one, come to some, or come to all. This space is for newcomers and for folks who have been around TOS for decades, and everyone in between. No prior experience observing Rosh Chodesh, or familiarity with Hebrew necessary. Come join this warm circle of women!

Share Print Save To My Calendar
Fri, August 7 2020
17 Av 5780
About Ohabei Shalom
Progressive in attitude yet traditional in practice, Temple Ohabei Shalom is an inclusive Jewish community committed to nurturing, sustaining, and touching Jewish lives through lifelong learning, joyful worship, and repair of the world in word and deed.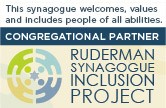 Our Most Recent Blog Posts
Add Me to Your Email List
Fri, August 7 2020 17 Av 5780