Monthly Women's Rosh Chodesh Group
Upcoming Sessions
1. Wednesday, January 9, 2019 • 3 Sh'vat 5779
7:30 PM - 7:00 PM
Leibovitch Hall
2. Wednesday, February 6, 2019 • 1 Adar I 5779
7:30 PM - 7:00 PM
Leibovitch Hall
3. Wednesday, March 6, 2019 • 29 Adar I 5779
7:30 PM - 7:00 PM
Leibovitch Hall
4. Wednesday, April 10, 2019 • 5 Nisan 5779
7:30 PM - 7:00 PM
Leibovitch Hall
5. Wednesday, May 8, 2019 • 3 Iyar 5779
7:30 PM - 7:00 PM
Leibovitch Hall
6. Wednesday, June 5, 2019 • 2 Sivan 5779
7:30 PM - 8:00 PM
Leibovitch Hall
Past Sessions
Wednesday, December 12, 2018 • 4 Tevet 5779 -

7:30 PM - 9:00 PM

-

Leibovitch Hall
Wednesday evenings, 7:30 - 9 pm Leibovitch Hall
December 12, January 9, February 6, March 6, April 10,
May 8, and June 5
Come celebrate the beginning of each new Jewish month with women of all ages from 13 - 113. We'll have the chance to schmooze, learn, enjoy activities and just connect with one another, offering a variety of ways into Jewish learning, community and living.

Share Print Save To My Calendar
Tue, December 18 2018
10 Tevet 5779
Join us for Shabbat services
Lifelong Learning

The 2018-2019 Adult Education Catalog is here! Download and print it to see our offerings for the year or go to our Lifelong Learning web page.
About Ohabei Shalom
Progressive in attitude yet traditional in practice, Temple Ohabei Shalom is an inclusive Jewish community committed to nurturing, sustaining, and touching Jewish lives through lifelong learning, joyful worship, and repair of the world in word and deed.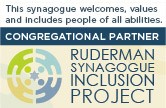 Tue, December 18 2018 10 Tevet 5779