Mindfulness & Meditation
Saturday, February 15, 2020
•
20 Sh'vat 5780
9:00 AM - 10:15 AM
Library

September 21, October 19, November 16, December 21, January 18, February 15, March 21, April 18, May 16 and June 13.
Held one Saturday a month before Shabbat morning services. Led by Donna Rubenoff. Together we learn how to bring more meaning to our Judaism through meditation and to explore how meditation can quiet the mind and encourage positive thought in support of mind body healing. By incorporating themes from Torah, Jewish texts and stories, and quotes from Jewish scholars into our meditations, we will deepen our understanding of Judaism through a spiritual connection.
A lovely way to spend Shabbat.

Share Print Save To My Calendar
Fri, August 7 2020
17 Av 5780
About Ohabei Shalom
Progressive in attitude yet traditional in practice, Temple Ohabei Shalom is an inclusive Jewish community committed to nurturing, sustaining, and touching Jewish lives through lifelong learning, joyful worship, and repair of the world in word and deed.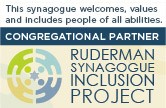 Our Most Recent Blog Posts
Add Me to Your Email List
Fri, August 7 2020 17 Av 5780