Jewish Identity Versus Assimilation in Film
Thursday, November 1, 2018 • 23 Cheshvan 5779
6:30 PM - 8:45 PM 2 weeks after
Lissner
Thursday evenings, 6:30 pm
Please be sure to arrive on time!
November 1 and November 15
Several filmmakers have explored the challenges of preserving Jewish identity
despite the overwhelming temptations to assimilate into contemporary Western society. Sometimes Jewish identity is imposed on people who have no conscious wish to cultivate it, as in Moshe Mizrachi's Academy-award winner Madame Rosa, a sensitive portrait of a Holocaust survivor (October 11). Sometimes Jewish moments surface at life-cycle milestones, as in the dance toward Jewish roots and back again in the Belgian comedy Rashevski's Tango (Nov. 1). The series concludes with the semi-biographical American classic, Liberty Heights (Nov. 15). The first session begins with some lessons about cultural identity from psychological research.
Come to one, two, or all three!
Barry H. Schneider, is professor emeritus in the school of psychology at University of Ottawa. He is currently a Senior Lecturer in the department of psychology at Boston College.

Share Print Save To My Calendar
Thu, October 18 2018
9 Cheshvan 5779
Join us for Shabbat services
Lifelong Learning News

The 2018-2019 Adult Education Catalog is here! Download and print it to see our offerings for the year or go to our Lifelong Learning web page.
About Ohabei Shalom
Progressive in attitude yet traditional in practice, Temple Ohabei Shalom is an inclusive Jewish community committed to nurturing, sustaining, and touching Jewish lives through lifelong learning, joyful worship, and repair of the world in word and deed.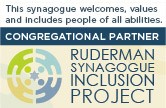 Thu, October 18 2018 9 Cheshvan 5779