Hannah Arendt: Controversy and Thought with Amos Lassen, Ph.D.
Past Sessions
Thursday, February 28, 2019

•

23 Adar I 5779

-

7:00 PM - 9:15 PM

-

Lissner
Thursday, February 21, 2019

•

16 Adar I 5779

-

7:00 PM - 9:15 PM

-

Lissner
Thursday, February 14, 2019

•

9 Adar I 5779

-

7:00 PM - 9:15 PM

-

Lissner
Thursday evenings, 7 pm,
February 14, 21, and 28
Hannah Arendt covered the trial of Adolf Eichmann for The New Yorker Magazine which resulted in the publication of her most famous and controversial work, "Eichmann in Jerusalem: A Report on the Banality of Evil". That made "the banality of evil" a world-renowned phrase and its author the most reviled Jewish thinker since Baruch Spinoza. We will return to the issue and look at the original controversy at the time it occurred and revisit it now to see if it still holds true.
Additionally we will view two films — a biopic Hannah Arendt directed by Margarethe Von Trotta and starring Barbara Sukowa as Arendt, and the documentary Vita Activa: The Spirit of Hannah Arendt.
Amos Lassen moved to Brookline in May 2012, having spent 7 years in Arkansas after Hurricane Katrina changed his plans of a two year visiting professorship in New Orleans. He lived in Israel for many years and taught at the Hebrew University, the University of New Orleans and the University of Central Arkansas. He grew up in the Young Judaea movement in New Orleans.

Share Print Save To My Calendar
Sat, June 6 2020
14 Sivan 5780
Our Most Recent Blog Posts
Add Me to Your Email List
About Ohabei Shalom
Progressive in attitude yet traditional in practice, Temple Ohabei Shalom is an inclusive Jewish community committed to nurturing, sustaining, and touching Jewish lives through lifelong learning, joyful worship, and repair of the world in word and deed.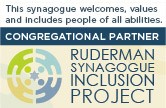 Sat, June 6 2020 14 Sivan 5780