Football and your brain-Is tackle football appropriate for kids?
Friday, October 12, 2018
•
3 Cheshvan 5779
6:00 PM - 8:00 PM
Join us as we welcome Dr. Robert Stern, Phd for this Shabbat service and talk. Dr. Stern is a Professor of Neurology, Neurosurgery, and Anatomy and Neurobiology at Boston University School of Medicine. A major focus of his research involves the long-term effects of repetitive brain trauma in athletes, including the neurodegenerative disease, CTE.
His discussion will be of interest to all, but especially parents of kids who participate in all sorts of contact sports (not just football). Brain trauma is recognized in sports such as soccer that are not traditionally categorized as "contact."
Special Musical Guest, Cantor Robbie Solomon. Stay for an oneg after services.
Free child care.
The talk and oneg are sponsored by the Brotherhood's Ben Adler Memorial Health Fund.
Share Print Save To My Calendar
Sun, March 7 2021
23 Adar 5781
About Ohabei Shalom
Progressive in attitude yet traditional in practice, Temple Ohabei Shalom is an inclusive Jewish community committed to nurturing, sustaining, and touching Jewish lives through lifelong learning, joyful worship, and repair of the world in word and deed.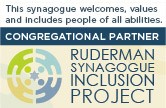 Contact Us
Our phone lines are open daily from 9:00am- 5:00pm.

In case of a lifecycle emergency occurs after hours, please call: 617.651.0584
Sun, March 7 2021 23 Adar 5781