Does the Truth Matter?
Thursday, May 17, 2018 • 3 Sivan 5778
7:30 PM - 9:30 PM
Chapel
Truth & Consequences in the Era of Fake News
Today's media and political landscapes are littered with untrustworthy sources and the troubling emergence of "fake news."

Photo © cbies/iStock
Bruce Bartlett, former presidential advisor, commentator and best-selling author, will help us identify what is reliable and trustworthy in a conversation moderated by Emmy Award-winning A&E Critic Joyce Kulhawik/www.JoycesChoices.com.
ABOUT OUR SPEAKER: Bruce Bartlett has spent many years in government, including service on the staffs of Representatives Ron Paul and Jack Kemp and Senator Roger Jepsen. He has been executive director of the Joint Economic Committee of Congress, senior policy analyst in the Reagan White House, and deputy assistant secretary for economic policy at the Treasury Department during the George H.W. Bush administration.
Mr. Bartlett is also a columnist for The Fiscal Times, an online newspaper covering public and personal finance, and Tax Notes, a weekly magazine for tax practitioners and policy makers. He was previously a columnist for Forbes magazine and Creators Syndicate.
He is the author of the New York Times best-seller "Impostor: How George W. Bush Bankrupted America and Betrayed the Reagan Legacy" (Doubleday, 2006) and, most recently, The Truth Matters: A Citizen's Guide to Separating Facts from Lies and Stopping Fake News in Its Tracks.
$10 TOS members, $15 guests, $5 seniors, free to students with ID
Reception following the talk.

Share Print Save To My Calendar
Sun, August 19 2018
8 Elul 5778
Upcoming Events
All Events
TCEE Teacher Meet & Greet


Friday, Aug 24th

4:30p

to

6:00p




Come have pizza with us at the TOS playground and parking lot and enjoy some music and sports activities. Meet our Rabbis, TCEE teachers, and families before we start the new school year together!

S'lichot: Beginning to Return: A S'lichot program of reflection and music


Shabbat, Sep 1st

7:30p

to

9:00p




Join us as we officially welcome the season of teshuvah (repentance and return). Connect with others, connect with yourself, and connect to the beauty of our tradition which offers us the continual opportunity for transformation and growth.

Welcome Back Shabbat!


Friday, Sep 7th

5:15p

to

7:30p




We miss you! Join us for a casual Shabbat get together. We'll have a chance to welcome each other back from the summer before Rosh Hashanah. If we can we'll be outside for snacks. Rabbi Berkman and our new Assistant Rabbi Schaefer look forward to welcoming you!

Rhythm 'n' Ruach Preschool Music


Wednesday, Sep 12th

1:15p

to

Wednesday, Dec 5th

2:00p




This interactive, high energy music program for children ages 2.5 - 5 yrs will give your child a strong connection to Judaism through music, movement, yoga, drumming, and dancing. Children and parents/caregivers will love this moving and grooving class featuring upbeat music, rhythm instruments, and songs that are guaranteed to be on the lips and in the hearts of your children throughout their growing years. 9 sessions (September 12 - December 5 - closed 9/19, 11/7, 11/21, and 11/28.)

High Holy Days Meditation Retreat: Touching the Spirit Within


Shabbat, Sep 15th

12:00p

to

4:00p




You are invited to take a journey. Together we will accept what is with gentleness and compassion. Come along and open your heart for a day of reflection during the High Holy Days. The program includes sitting and walking meditation, Jewish text study, mindful eating in silence and more.
Join us for Shabbat services
About Ohabei Shalom
Progressive in attitude yet traditional in practice, Temple Ohabei Shalom is an inclusive Jewish community committed to nurturing, sustaining, and touching Jewish lives through lifelong learning, joyful worship, and repair of the world in word and deed.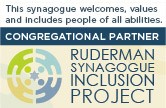 Sun, August 19 2018 8 Elul 5778