Does the Truth Matter?
Thursday, May 17, 2018 • 3 Sivan 5778
7:30 PM - 9:30 PM
Chapel
Truth & Consequences in the Era of Fake News
Today's media and political landscapes are littered with untrustworthy sources and the troubling emergence of "fake news."

Photo © cbies/iStock
Bruce Bartlett, former presidential advisor, commentator and best-selling author, will help us identify what is reliable and trustworthy in a conversation moderated by Emmy Award-winning A&E Critic Joyce Kulhawik/www.JoycesChoices.com.
ABOUT OUR SPEAKER: Bruce Bartlett has spent many years in government, including service on the staffs of Representatives Ron Paul and Jack Kemp and Senator Roger Jepsen. He has been executive director of the Joint Economic Committee of Congress, senior policy analyst in the Reagan White House, and deputy assistant secretary for economic policy at the Treasury Department during the George H.W. Bush administration.
Mr. Bartlett is also a columnist for The Fiscal Times, an online newspaper covering public and personal finance, and Tax Notes, a weekly magazine for tax practitioners and policy makers. He was previously a columnist for Forbes magazine and Creators Syndicate.
He is the author of the New York Times best-seller "Impostor: How George W. Bush Bankrupted America and Betrayed the Reagan Legacy" (Doubleday, 2006) and, most recently, The Truth Matters: A Citizen's Guide to Separating Facts from Lies and Stopping Fake News in Its Tracks.
$10 TOS members, $15 guests, $5 seniors, free to students with ID
Reception following the talk.

Share Print Save To My Calendar
Wed, January 16 2019
10 Sh'vat 5779
Help make TOS events the best they can be!
Click here to sign up to a volunteer for upcoming events.
Join us for Shabbat services
Lifelong Learning

The 2018-2019 Adult Education Catalog is here! Download and print it to see our offerings for the year or go to our Lifelong Learning web page.
About Ohabei Shalom
Progressive in attitude yet traditional in practice, Temple Ohabei Shalom is an inclusive Jewish community committed to nurturing, sustaining, and touching Jewish lives through lifelong learning, joyful worship, and repair of the world in word and deed.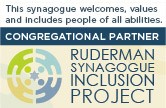 Wed, January 16 2019 10 Sh'vat 5779