Community Tisha B'Av Services
Saturday, July 21, 2018 • 9 Av 5778
8:00 PM - 9:00 PM
Service is off-site at Temple Sinai, 50 Sewall Ave, Brookline, MA 02446
Temple Sinai, Temple Israel and Temple Ohabei Shalom observe the Jewish holiday of Tisha B'Av on Saturday evening, July 21 at 8:00 p.m. Temple Sinai is hosting the service this year.
Please join our three Reform congregations for a time of reflection as we recall times of destruction and despair throughout Jewish history on Tisha B'Av, the fast day which traditionally commemorates the destruction of the ancient Temple in Jerusalem by the Babylonian Empire in 586 BCE and by the Romans in 70 CE, the expulsion of Jews from Spain in 1492, and other tragedies that have befallen the Jewish people. Temple Sinai's Rabbi Shoshana Friedman will lead us in song, prayer and the reading of Eichah, the Book of Lamentations. The service will take place in Temple Sinai's Ehrenfried Hall. The entrance is down the stairway at the corner of Sewall Avenue and Charles Streets.
Share Print Save To My Calendar
Tue, December 18 2018
10 Tevet 5779
Join us for Shabbat services
Lifelong Learning

The 2018-2019 Adult Education Catalog is here! Download and print it to see our offerings for the year or go to our Lifelong Learning web page.
About Ohabei Shalom
Progressive in attitude yet traditional in practice, Temple Ohabei Shalom is an inclusive Jewish community committed to nurturing, sustaining, and touching Jewish lives through lifelong learning, joyful worship, and repair of the world in word and deed.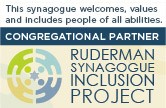 Tue, December 18 2018 10 Tevet 5779