Chaidiving with Temple Ohabei Shalom!
Sunday, September 8, 2019
•
8 Elul 5779
10:00 AM - 2:00 PM
Skydive Pepperell-Pepperell, MA
Come out and enjoy a day with your TOS friends, as skydivers from around the country assemble to form a "Flying Minyan."
Sit in the shade or grill out on the BBQ, while watching multiple formation skydives, as the flying minyan spells out Chai and forming the shape of a Torah in the sky.
Or join in on the fun and sign up for a Tandem skydive with Skydive Pepperell. Tandem skydivers are $250 and you can register for your sky dive here: www.skyjump.com (Group # is 26790).
Either way, purchase a T-shirt for $20 to support the event and all proceeds go to TOS. Orders placed before 8/23 will be ready for the event.
Share Print Save To My Calendar
Sun, August 25 2019
24 Av 5779
Help make TOS events the best they can be!
Click here to sign up to a volunteer for upcoming events.
Join us for Shabbat services
About Ohabei Shalom
Progressive in attitude yet traditional in practice, Temple Ohabei Shalom is an inclusive Jewish community committed to nurturing, sustaining, and touching Jewish lives through lifelong learning, joyful worship, and repair of the world in word and deed.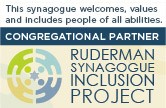 Sun, August 25 2019 24 Av 5779