David Broza & Friends
Saturday, December 14, 2019
•
16 Kislev 5780
7:00 PM - 10:30 PM
Sanctuary/Penn-Spero
This December, Ohabei Shalom hosts an exciting and exhilarating Hanukkah concert, as we welcome Israeli superstar David Broza and NY based Cuban "Trio Havana" led by flute virtuoso Itai Kriss. Join us for the concert and stay for a reception afterwards!
Tickets are available at the box office, including tickets for both the concert alone and the concert/reception.
Description: In the summer of 2018 David Broza was joined by the NY based Cuban "Trio Havana." This union of musicians lead to the creation of his newest band under the label "David Broza & Friends." Together they bring a unique interpretation to the full spectrum of Broza's rich repertoire of hits. Israeli superstar David Broza is considered one of the world's most dynamic and vibrant performers. From his whirlwind fingerpicking to Flamenco percussion and rhythms to a signature rock and roll sound, David Broza's charismatic and energetic performances have delighted audiences throughout the world.
Raised in Israel, Spain, and England, Broza has performing worldwide since 1977,when his hit song "Yihye Tov" first hit the airwaves, promoting a message of peace. David Broza is known for his commitment and dedication to several humanitarian projects, especially a resolution to Israeli-Palestinian conflict through dialogue, culture, music and tolerance. Now, with a string of multi-platinum albums—in Hebrew, English and Spanish—he continues to hone his message.
Broza was awarded a Spanish Medal of Honor by the King of Spain, Juan Carlos I, for his longtime contribution to Israel-Spain relations and his promotion of tolerance. A passionate peace advocate, he has also been named a UNICEF Goodwill Ambassador. Broza garnered widespread acclaim for his 2013 album East Jerusalem West Jerusalem, produced by GRAMMY award-winner Steve Earle and record executive Steve Greenberg.
Share Print Save To My Calendar
Tue, October 15 2019
16 Tishrei 5780
Help make TOS events the best they can be!
Join us for Shabbat services
Upcoming Events
All Events
Soul Cycle: Spiritual Insights into the Jewish Holiday Cycle Taught by Rabbi Daniel Schaefer and Rabbinic Intern Ryan Leszner


Thursday, Oct 17th

6:30p

to

8:00p




Select Thursdays, 6:30 pm The cycle of the Jewish year provides us with a road-map for spiritual growth and development. Come nourish your soul with song, meditation, and learning as we journey through the Jewish year. Each session will focus on a couple stories and prayers as we mindfully attune our souls to themes of the season.

GBIO Shabbat and Pot Luck Dinner


Friday, Oct 18th

6:00p

to

7:30p




Come celebrate the first anniversary of Temple Ohabei Shalom's membership in the Greater Boston Interfaith Organization (GBIO). Please join us to learn how GBIO is working this coming year to achieve improved access to health and mental health care, affordable housing and immigrant rights - and especially for a delicious and fun POT LUCK DINNER after services. All are welcome!! Sign up to bring your favorite dish here.

Shabbat Services with Lunch and Learn in the Sukkah


Shabbat, Oct 19th

10:30a

to

12:00p




Study torah in the sukkah with Rabbi Schaefer! You'll lunch and learn, a wonderful way to enjoy Sukkot and Shabbat.

Simchat Torah B'yachad


Sunday, Oct 20th

5:00p

to

8:00p




Simchat Torah is the holiday where we celebrate the year-long cycle of reading Torah from beginning to end. This celebration is for all ages! What's the best way to celebrate Simchat Torah? Singing! Dancing! Community! Teaching! Join us.

Monthly Women's Rosh Chodesh Group with Rabbi Audrey Marcus Berkman


Wednesday, Oct 30th

7:00p

to

8:30p




Come celebrate the beginning of each new Jewish month with women of all ages from 13 - 113. We'll have the chance to schmooze, learn, enjoy activities and just connect with one another, offering a variety of ways into Jewish learning, community and living.
About Ohabei Shalom
Progressive in attitude yet traditional in practice, Temple Ohabei Shalom is an inclusive Jewish community committed to nurturing, sustaining, and touching Jewish lives through lifelong learning, joyful worship, and repair of the world in word and deed.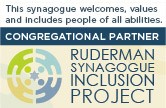 Tue, October 15 2019 16 Tishrei 5780