Annual Social Action Kickoff Meeting
Wednesday, September 25, 2019
•
25 Elul 5779
7:00 PM - 8:30 PM
Lissner Hall
Please join the Social Action committee for our annual SOCIAL ACTION KICK OFF MEETING on Weds Sep 25th, 7:00 pm. We'll have dessert (feel free to bring something to share), conversation, and lots of brainstorming for our activities this year. We will also highlight GBIO and the many ways you can get involved. Rabbi Schaefer will be there and helping to facilitate, a really lovely opportunity for all of us to work with him. And, we only have full-group meetings a couple times each year--so this is the one to come to!
Please RSVP to Shoma Dhar so we have an accurate headcount, or if you cannot attend but want to be included on future Social Action Committee emails. Babysitting may be available (if needed, please include in your RSVP).
Hope you can make it!
The Social Action Committee Board: Lori Berry, Shoma Dhar, Robin LeWinter and Jessica Ullian
Share Print Save To My Calendar
Sun, August 25 2019
24 Av 5779
Help make TOS events the best they can be!
Click here to sign up to a volunteer for upcoming events.
Join us for Shabbat services
About Ohabei Shalom
Progressive in attitude yet traditional in practice, Temple Ohabei Shalom is an inclusive Jewish community committed to nurturing, sustaining, and touching Jewish lives through lifelong learning, joyful worship, and repair of the world in word and deed.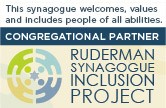 Sun, August 25 2019 24 Av 5779