Annual Brotherhood-Led Shabbat
Friday, February 21, 2020
•
26 Sh'vat 5780
6:00 PM - 7:30 PM
Join us as we reflect on what or who has inspired us over the years. Members of the Brotherhood will join Rabbi Berkman in leading services. You are invited to join us in prayer and celebration of the joy of Shabbat, and the "Oneg - Delight" following services, hosted by Brotherhood.
Share Print Save To My Calendar
Fri, August 7 2020
17 Av 5780
About Ohabei Shalom
Progressive in attitude yet traditional in practice, Temple Ohabei Shalom is an inclusive Jewish community committed to nurturing, sustaining, and touching Jewish lives through lifelong learning, joyful worship, and repair of the world in word and deed.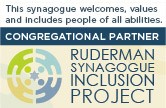 Our Most Recent Blog Posts
Add Me to Your Email List
Fri, August 7 2020 17 Av 5780