Welcome Back ShaBarbecue
Friday, September 6, 2019
•
6 Elul 5779
5:30 PM - 8:30 PM
Parking Lot
Fun, food, and friends. We're back from Summer vacation, let's celebrate Shabbat together under the beautiful sky. We'll enjoy a delicious bbq, followed by an open air service. What could be better?
Everyone is invited. Please come and bring your friends who are interested! Dinner is FREE to all, but if you are attending, please register. It will help us plan. Thank you!
Share Print Save To My Calendar
Sun, August 25 2019
24 Av 5779
Help make TOS events the best they can be!
Click here to sign up to a volunteer for upcoming events.
Join us for Shabbat services
About Ohabei Shalom
Progressive in attitude yet traditional in practice, Temple Ohabei Shalom is an inclusive Jewish community committed to nurturing, sustaining, and touching Jewish lives through lifelong learning, joyful worship, and repair of the world in word and deed.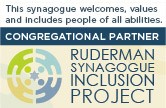 Sun, August 25 2019 24 Av 5779