5th Annual High Holy Days Retreat: Breathe, Return, and Renew
Saturday, October 5, 2019
•
6 Tishrei 5780
11:00 AM - 3:00 PM
Lissner
Come along during the Days of Awe (Yamim Nora'im) and open your heart for a day of reflection during the High Holy Days. Program includes sitting and walking meditation, Jewish text study, mindful eating in silence, and more...
Led by Donna Rubenoff. Registration required.
Registration: $65
For accommodations and/or questions, please email Donna,
Share Print Save To My Calendar
Thu, August 6 2020
16 Av 5780
About Ohabei Shalom
Progressive in attitude yet traditional in practice, Temple Ohabei Shalom is an inclusive Jewish community committed to nurturing, sustaining, and touching Jewish lives through lifelong learning, joyful worship, and repair of the world in word and deed.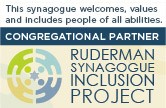 Our Most Recent Blog Posts
Add Me to Your Email List
Thu, August 6 2020 16 Av 5780