2020 Weekend Kallah: An Appreciation of Our Musical Heritage
Friday, January 24, 2020
•
27 Tevet 5780
5:00 PM - 2:00 PM 1 day after
Portsmouth Sonesta
January 24-26 at the Portsmouth Sonesta
Please register by January 3.
A Kallah is a weekend of togetherness and study.
During this Kallah, TOS Musical Director David Sparr will serve as our Resident Scholar, leading sessions exploring ancient and medieval Jewish music, Reform movement composers and modern day Jewish music. The weekend will otherwise include worship, Torah study, conversation, fun and games (including Jewish Name That Tune!) and good food.
If you are interested, please contact Larry Green, Kallah Chair, at lgreen@burnslev.com and register by January 3rd. For information about the Portsmouth Sonesta, including pricing and registration, click here.
Share Print Save To My Calendar
Fri, August 7 2020
17 Av 5780
About Ohabei Shalom
Progressive in attitude yet traditional in practice, Temple Ohabei Shalom is an inclusive Jewish community committed to nurturing, sustaining, and touching Jewish lives through lifelong learning, joyful worship, and repair of the world in word and deed.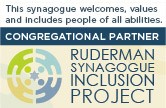 Our Most Recent Blog Posts
Add Me to Your Email List
Fri, August 7 2020 17 Av 5780