Dues at TOS
Dues at TOS
Temple Ohabei Shalom, like every synagogue community, relies on the financial support of its participants in order to provide a broad array of programming and services. Membership is an investment in a rich and vibrant community for the present and for the future.
Temple Ohabei Shalom is committed to welcoming all members regardless of their financial circumstances. If your dues amount poses a hardship for your family, you will find a sympathetic ear and a willingness to make special arrangements. Please contact Joy Haims, Executive Director, at 617.277.6610, with any questions or concerns about Temple dues.
Downloadable Membership Application 2018-19 (includes dues schedule.)
Downloadable Dues Schedule.
Tue, December 18 2018
10 Tevet 5779
Join us for Shabbat services
Lifelong Learning

The 2018-2019 Adult Education Catalog is here! Download and print it to see our offerings for the year or go to our Lifelong Learning web page.
About Ohabei Shalom
Progressive in attitude yet traditional in practice, Temple Ohabei Shalom is an inclusive Jewish community committed to nurturing, sustaining, and touching Jewish lives through lifelong learning, joyful worship, and repair of the world in word and deed.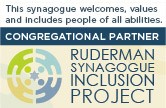 Tue, December 18 2018 10 Tevet 5779