Contact Us
Add a Loved One to Our Mi Shebeirach List
If you have a loved one whom you would like us to add to our Mi Shebeirach (healing prayer) list, please fill out this form.
Thu, October 22 2020
4 Cheshvan 5781
Upcoming Events:
There are no upcoming events at this time.
About Ohabei Shalom
Progressive in attitude yet traditional in practice, Temple Ohabei Shalom is an inclusive Jewish community committed to nurturing, sustaining, and touching Jewish lives through lifelong learning, joyful worship, and repair of the world in word and deed.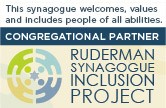 Contact Us
Our phone lines are open daily from 9:00am- 5:00pm.

In case of a lifecycle emergency occurs after hours, please call: 617.651.0584
Thu, October 22 2020 4 Cheshvan 5781