Community Facilitation Team
Community Facilitation Team
"Welcome to Ohabei Shalom's
Strategic Planning process…we're listening!"
Our Community Facilitation Team (from left to right): Naomi Gurt Lind, Rachel Calmas,
Joshua Paradise, Danielle Dykeman, Andy O'Connell, Mara Goldstein and
Rabbi Audrey Marcus Berkman (not pictured).
The Community Facilitation Team is engaged in helping to gather information, promote participation, facilitate conversations, and much more. Send us an email. Give us a call. Flag us down when you see us at Temple. We want to hear from you!
Sat, September 21 2019
21 Elul 5779
Help make TOS events the best they can be!
Click here to sign up to a volunteer for upcoming events.
Join us for Shabbat services
About Ohabei Shalom
Progressive in attitude yet traditional in practice, Temple Ohabei Shalom is an inclusive Jewish community committed to nurturing, sustaining, and touching Jewish lives through lifelong learning, joyful worship, and repair of the world in word and deed.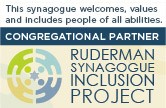 Sat, September 21 2019 21 Elul 5779