Committees
Committees

Mighty rivers begin with but a single drop of rain.
—Anonymous
Getting involved is a great way to make or deepen connections within the congregation while giving back to the community. Join a committee or project, and experience for yourself the warmth and fun of community life!
Standing Groups
Adult Learning
ARS School Committee
Board of Trustees
Building & Grounds Committee
Communications
Executive Committee
Finance & Budget Committee
Hineini Endowment
Membership Committee
Ritual Committee
Social Action
Strategic Planning
TCEE Parent Advisory Committee
Web Committee
Sat, September 21 2019
21 Elul 5779
Help make TOS events the best they can be!
Click here to sign up to a volunteer for upcoming events.
Join us for Shabbat services
About Ohabei Shalom
Progressive in attitude yet traditional in practice, Temple Ohabei Shalom is an inclusive Jewish community committed to nurturing, sustaining, and touching Jewish lives through lifelong learning, joyful worship, and repair of the world in word and deed.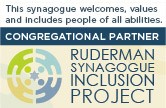 Sat, September 21 2019 21 Elul 5779