Our Clergy
To send a message directly to our clergy, please click on their name. During the day they can be contacted through the Temple office at: (617) 277-6610. For Life-cycle emergencies only, after business hours call: (617) 651-0584.
A graduate of Oberlin College and Harvard Divinity School (Masters of Theological Studies), Rabbi Berkman was ordained by the Reconstructionist Rabbinical College in 2007, where she received a Wexner Graduate Fellowship for her studies. She has served as a teacher, service leader, and officiant in a wide variety of Jewish contexts and communities. Most recently serving as Campus Rabbi and Hillel Director at Wellesley College, for six years she was rabbi of Shir Hadash, a congregation in Newton, MA, and has also served as a chaplain for Hebrew Senior Life and for Newton-Wellesley Hospital, an educator for the prestigious Bronfman Youth Fellowships in Israel, a cantor at Congregation Mishkan Tefila, and a teacher for Parenting Through a Jewish Lens, through Hebrew College.
Rabbi Berkman has spent time learning and living in Israel, at Pardes Institute for Jewish Studies, Hebrew University, Ben Gurion University, among others, and deeply loves the language and culture of landscape of Israel. She has officiated at many lifecycle events for unaffiliated families throughout the Boston area, and loves the work of engaging all who wish to connect to Jewish life and community, from any background. Rabbi Berkman believes that it is our Jewish obligation to create an ongoing dialogue between our individual torah (our life experiences, passions, challenges, and questions) and Torah (Jewish text, tradition, culture, and wisdom in all of its many forms). When we bring our own voices into conversation with Torah, we are participating in the sacred task of the creation of new wisdom, and a better world.
Rabbi Berkman is married to Rabbi Jethro Berkman, Dean of Jewish Education at Gann Academy in Waltham. They have three sons, Gavi, Ami, and Edan, and a very sweet dog they adopted named Coco Rose. Edan attends TCEE. They live in the village of Auburndale in Newton. Rabbi Berkman believes in the life-giving and transformative power of humor, time spent in nature, poetry, music, dance, dogs, coffee, and time spent with children. She looks forward to getting to know every member of the TOS community!
Rabbi Berkman can be reached at: amberkman@ohabei.org.
Prior to his ordination,
Rabbi Daniel Schaefer
served as the student Rabbi of the Martha's Vineyard Hebrew Center and the Bethlehem Hebrew Congregation, as well as the Director of Graduate Student Engagement at MIT Hillel.
Rabbi Schaefer grew up in Connecticut before attending Stanford University, where he studied History and Jewish Studies. His award-winning honors thesis, American Judaism Reconsidered: Religion & Nationalism in the Thought of Irving Reichert, explored visions of American Judaism before World War II. At Hebrew College, his final project, The Way of the Wilderness, focused on connections between nature and Torah in the book of Numbers.
After college, Rabbi Schaefer worked as an entrepreneur and ghostwriter, taught at a wilderness school, and served in AVODAH: The Jewish Service Corps, before returning to rabbinical school. In addition to Hebrew College, he has studied at Mechon Hadar, the Hartman Institute, the Jewish Theological Seminary, and Hebrew Union College.
He is passionate about Torah study, experiential learning, spiritual exploration, and building multi-generational Jewish community. In his free time, he loves spending time at Walden Pond, in the White Mountains, and cheering on the Boston Celtics. He enjoys being part of the staff and community
at Temple Ohabei Shalom.
Rabbi Emily Lipof, Rabbi Emerita
Rabbi Emily Lipof is the first woman in the United States to be named Senior Rabbi of a major congregation. In 1988, she was called to our pulpit, where she has been instrumental in revitalizing our congregation with her innovative programs, spirituality, and inclusiveness. An educator at heart, Rabbi Lipof founded the Temple Shalom Nursery School in Newton. She served as principal of the High School for Jewish Studies and was the director and teacher of an adult education workshop at Brandeis University.
The Jewish community of Greater Boston and beyond is well aware of Rabbi Lipof's uniqueness and accomplishments: She has been honored by Combined Jewish Philanthropies with their annual Rabbinic Award, by Ben-Gurion University of the Negev with their Outstanding Service Award, and by Israel Bonds National Board, which chose her as one of 50 rabbis in the United States to receive the coveted Golden Shofar Award.
Ryan Leszner, Lifelong Learning Intern
Ryan is a third-year Rabbinical Student at Hebrew College. Previously, Ryan served as the Educator for the Riverway Project, a twenties and thirties group at Temple Israel in Boston. Before moving to Boston, Ryan served as the Director of Youth Engagement for Congregation Rodef Sholom in San Rafael, CA. One of his passions is providing educational musical experiences that help connect to Jewish concepts and traditions. He was born in Toronto, Canada, and spent most of his formative years at URJ Camp George and NFTY-NEL, the Reform movements youth group. Ryan also loves watching hockey, playing sports, travelling, hiking, listening to music, making music, and going to live shows.
Naomi Fisher joined the Temple Ohabei Shalom staff in October of 2014. She is a native of Newton, where she grew up during the inspiring creation and growth of her childhood congregation. As an adult she continues to cherish the people, rituals, and fullness of Judaism. For many years she sang with Zamir Chorale of Boston and she was also a member of Havurat Shalom in Somerville. Naomi comes to Temple Ohabei Shalom after working in the field of publishing and communications for several decades. Understanding and loving the enrichment that synagogue life can offer, she is excited to be working with the TOS community.
Sat, February 22 2020
27 Sh'vat 5780
Our Most Recent Blog Post
Our Lifelong Learning Catalog
Check out our Lifelong Learning Opportunities for the rest of the year. You'll find everything from Torah study (at Shabbat Morning B'yachad) to learning about the seasons of the Jewish Year, the Shema, and much, much more. Open the catalog here.
Upcoming Events
All Events
Wednesday

,

Feb

February

26

,

2020

Monthly Women's Rosh Chodesh Group with Rabbi Audrey Marcus Berkman


Wednesday, Feb 26th

7:00p

to

8:30p




Come celebrate the beginning of each new Jewish month with women of all ages from 13 - 113. We'll have the chance to schmooze, learn, enjoy activities and just connect with one another, offering a variety of ways into Jewish learning, community and living.

Saturday

,

Feb

February

29

,

2020

Shabbat Morning B'yachad, Tot Shabbat & TCEE Play Date


Shabbat, Feb 29th

10:00a

to

1:30p




A morning of community and learning! All ages, stages & backgrounds welcome! Come when you can, leave when you need to. Warm up with coffee and bagels, study a little Torah, enjoy our Shabbat morning or Tot Shabbat service, and stay for a Kiddush lunch. Free child care is available if the little ones need a break!

Thursday

,

Mar

March

5

,

2020

Soul Cycle: Spiritual Insights into the Jewish Holiday Cycle Taught by Rabbi Daniel Schaefer and Lifelong Learning Intern Ryan Leszner


Thursday, Mar 5th

6:30p

to

8:00p




Select Thursdays, 6:30 pm The cycle of the Jewish year provides us with a road-map for spiritual growth and development. Come nourish your soul with song, meditation, and learning as we journey through the Jewish year. Each session will focus on a couple stories and prayers as we mindfully attune our souls to themes of the season.

Sunday

,

Mar

March

8

,

2020

Purim Carnival Hoopla


Sunday, Mar 8th

3:00p

to

5:30p




FREE ADMISSION. Cotton candy, carnival games, prizes, an indoor bounce house, food, raffles and fun for the whole family! Enter our silent auction to win prizes like a ride to school in a police car, or a special experience with one of our TCEE teachers, or buy one of our mystery gift card boxes. All proceeds support scholarships for children to attend TCEE. Costumes encouraged. Join us for an afternoon of fun!

Tuesday

,

Mar

March

10

,

2020

TOS Community Purim: WTOS 118.7


Tuesday, Mar 10th

6:00p

to

8:00p




Come hear the Purim story, set to pop music. After a brief evening service, there will be a Purim play led by community members, religious school students, and our Rabbis, involving art, music, and chanted selections of the megillah. This event is open to whole everyone. Costumes are encouraged! Come for zany fun, yummy hamantashan, and friends galore.
Help make TOS events the best they can be!
In the Works Now: Israel Trip!
Planning is underway for our next congregational trip to ISRAEL! The trip will take place from approximately February 11-21, 2021 (this is during the February school vacation week). Our member David Seldin is chairing the planning committee, along with Rabbi Berkman. Details.
About Ohabei Shalom
Progressive in attitude yet traditional in practice, Temple Ohabei Shalom is an inclusive Jewish community committed to nurturing, sustaining, and touching Jewish lives through lifelong learning, joyful worship, and repair of the world in word and deed.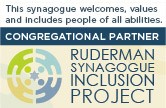 Sat, February 22 2020 27 Sh'vat 5780