Bar and Bat Mitzvah
Bar and Bat Mitzvah

B'nei Mitzvah Study
Temple Ohabei Shalom has called young Jews to the bimah for 170 years. Working with our capable teachers, Rabbi Sonia Saltzman and Rabbi Audrey Berkman will spend a thoughtful year preparing your child for this most precious of occasions. In the years preceding your child's bar or bat mitzvah, families participate in a community havurah (group of friends) which builds community, helps students develop their skills, and prepares the whole family for this momentous occasion. Our historic Sanctuary as backdrop adds just the right amount of tradition to innovative and inspiring B'nei Mitzvah services. With full caterer's kitchens and banquet halls, our Facilities staff are ready to help you plan your family's special day.

Materials to Guide you
Our B'nei Mitzvah Handbook, Prayer Recordings, and Blessings can be found on this website.
For facilities information contact Paul Kelly.
B'nei Mitzvah Handbook
B'nei Mitzvah Blessings for an Aliyah
ARS Prayer Recordings
Tue, July 17 2018
5 Av 5778
Upcoming Events
All Events
Community Tisha B'Av Services


Shabbat, Jul 21st

8:00p

to

9:00p




Temple Sinai, Temple Israel and Temple Ohabei Shalom observe the Jewish holiday of Tisha B'Av on Saturday evening, July 21 at 8:00 p.m. Temple Sinai is hosting the service this year.

Sign up now for a Special Musical Evening in preparation for High Holy Days-hosted by Mayyim Hayyim


Thursday, Sep 6th

7:00p

to

8:15p




Off site at Temple Reyim. Joey Weisenberg leads a community-wide song-learning workshop, with space for reflection and teshuva (return, repentance), and the opportunity for you to dive into the full complexity of song. No prior knowledge required. Registration required.
Join us for Shabbat services
About Ohabei Shalom
Progressive in attitude yet traditional in practice, Temple Ohabei Shalom is an inclusive Jewish community committed to nurturing, sustaining, and touching Jewish lives through lifelong learning, joyful worship, and repair of the world in word and deed.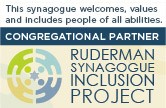 Tue, July 17 2018 5 Av 5778