Bar and Bat Mitzvah
Bar and Bat Mitzvah

B'nei Mitzvah Study
Temple Ohabei Shalom has called young Jews to the bimah for 170 years. Working with our capable teachers, Rabbi Audrey Marcus Berkman and Rabbi Daniel Schaefer will spend a thoughtful year preparing your child for this most precious of occasions. In the years preceding your child's bar or bat mitzvah, families participate in a community havurah (group of friends) which builds community, helps students develop their skills, and prepares the whole family for this momentous occasion. Our historic Sanctuary as backdrop adds just the right amount of tradition to innovative and inspiring B'nei Mitzvah services. With full caterer's kitchens and banquet halls, our Facilities staff are ready to help you plan your family's special day.

Materials to Guide you
Our B'nei Mitzvah Handbook, Prayer Recordings, Blessings, and recordings/chart for Chanting Torah can be found on this website.
B'nei Mitzvah Handbook
B'nei Mitzvah Blessings for an Aliyah
ARS Prayer Recordings
Chanting Torah: Torah Trope
Mitzvah Project Basics
Wed, May 22 2019
17 Iyar 5779
Help make TOS events the best they can be!
Click here to sign up to a volunteer for upcoming events.
Join us for Shabbat services
Lifelong Learning

The 2018-2019 Adult Education Catalog is here! Download and print it to see our offerings for the year or go to our Lifelong Learning web page.
About Ohabei Shalom
Progressive in attitude yet traditional in practice, Temple Ohabei Shalom is an inclusive Jewish community committed to nurturing, sustaining, and touching Jewish lives through lifelong learning, joyful worship, and repair of the world in word and deed.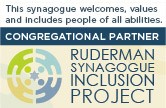 Wed, May 22 2019 17 Iyar 5779