Bar and Bat Mitzvah
B'nei Mitzvah

B'nei Mitzvah Study
Temple Ohabei Shalom has called young Jews to the bimah for 170 years. Working with our capable teachers, Rabbi Audrey Marcus Berkman and Rabbi Daniel Schaefer will spend a thoughtful year preparing your child for this most precious of occasions. In the years preceding your child's bar or bat mitzvah, families participate in The B'nei Mitzvah Experience, an innovative family program that prepares the whole family for this momentous occasion. Our historic sanctuary as a backdrop adds just the right amount of tradition to innovative and inspiring B'nei Mitzvah services. With full caterer's kitchens and banquet halls, our Event & Production Coordinator is ready to help you plan your family's special day.
Materials to Guide You
Our B'nei Mitzvah Handbook, Prayer Recordings, Blessings, and recordings/chart for Chanting Torah can be found on this website.
B'nei Mitzvah Handbook
B'nei Mitzvah Blessings for an Aliyah
Prayer Recordings
Chanting Torah: Torah Trope
Mitzvah Project Basics
Thu, December 8 2022
14 Kislev 5783
Upcoming Events:
There are no upcoming events at this time.
About Ohabei Shalom
Progressive in attitude yet traditional in practice, Temple Ohabei Shalom is an inclusive Jewish community committed to nurturing, sustaining, and touching Jewish lives through lifelong learning, joyful worship, and repair of the world in word and deed.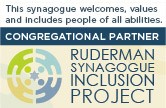 Contact Us
Our phone lines are open daily from 9:00am- 5:00pm.

If a lifecycle emergency occurs after hours, please call: 617.651.0585
Thu, December 8 2022 14 Kislev 5783