Bar and Bat Mitzvah
Bar and Bat Mitzvah

B'nei Mitzvah Study
Temple Ohabei Shalom has called young Jews to the bimah for 170 years. Working with our capable teachers, Rabbi Audrey Marcus Berkman and Rabbi Daniel Schaefer will spend a thoughtful year preparing your child for this most precious of occasions. In the years preceding your child's bar or bat mitzvah, families participate in a community havurah (group of friends) which builds community, helps students develop their skills, and prepares the whole family for this momentous occasion. Our historic Sanctuary as backdrop adds just the right amount of tradition to innovative and inspiring B'nei Mitzvah services. With full caterer's kitchens and banquet halls, our Facilities staff are ready to help you plan your family's special day.

Materials to Guide you
Our B'nei Mitzvah Handbook, Prayer Recordings, Blessings, and recordings/chart for Chanting Torah can be found on this website.
B'nei Mitzvah Handbook
B'nei Mitzvah Blessings for an Aliyah
ARS Prayer Recordings
Chanting Torah: Torah Trope
Fri, January 18 2019
12 Sh'vat 5779
Help make TOS events the best they can be!
Click here to sign up to a volunteer for upcoming events.
Join us for Shabbat services
Lifelong Learning

The 2018-2019 Adult Education Catalog is here! Download and print it to see our offerings for the year or go to our Lifelong Learning web page.
Upcoming Events
All Events
Mindfulness & Meditation


Shabbat, Jan 19th

9:00a

to

10:15a




Learn how to bring more meaning to our Judaism through meditation. Led by experienced guide Donna Rubenoff.

Sisterhood Tu B'Shevat Seder


Tuesday, Jan 22nd

6:30p

to

8:30p




The TOS Sisterhood is having its Annual Tu B'Shevat Seder -- A Taste of Tu B'Shevat -- on Tuesday evening January 22nd. All women are welcome to join us from 6:30-8:30 pm on the 1st for a light dinner and a meaningful fun filled Seder featuring four different types of fruits and four different kinds of wines (or juices for those who don't imbibe). It is wonderful way to celebrate the Birthday of the Trees and to help us Think Spring. If you are planning to attend, please RSVP to albertalipson@gmail.com. Space is limited!

Jewish Justices of the U.S. Supreme Court with Denise Karlin, Esq.


Thursday, Jan 24th

7:00p

to

8:30p




A look at the eight Jewish individuals who served as Justices of the United States Supreme Court. An overarching theme will be "Does it matter if Jews sit on the Supreme Court? Why or why not?"

Parenting Through a Jewish Lens


Sunday, Jan 27th

4:30p

to

7:00p




Join fellow parents of children ages 0 to 10 to discuss topics that matter to you as a parent; explore Jewish values that can enrich your family; reflect on the joys and challenges of raising kids today; and find support, encouragement, and connection. Registration required. Childcare available.

A Taste of Judaism®: Are You Curious?


Wednesday, Jan 30th

7:00p

to

9:00p




Three FREE weekly sessions exploring Judaism's big ideas— a modern Jewish take on spirituality, values, and community. Dynamic and interactive session with engaging teachers who are open to your questions. All are welcome. Advanced registration required.
About Ohabei Shalom
Progressive in attitude yet traditional in practice, Temple Ohabei Shalom is an inclusive Jewish community committed to nurturing, sustaining, and touching Jewish lives through lifelong learning, joyful worship, and repair of the world in word and deed.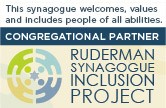 Fri, January 18 2019 12 Sh'vat 5779