ARS—Staff and Teachers
ARS—Staff and Teachers
Meet the Director, Teachers and Staff of the Ansin Religious School
Click on a name to contact that individual.
Shari Churwin, Education Director
Shari has been working at Ohabei Shalom for more than twenty-two years in many different educational positions including Education Administrator, Youth Educator, and Family Educator. She now serves as our Education Director helping to direct our vision of Jewish Education. She completed a Masters Degree in Jewish Education and also holds a Certificate in Jewish Family Education from Hebrew College. Shari is a member of the National Association of Temple Educators (NATE) the National Association Education of Young People (NAEYC) and the Early Childhood Educators of Reform Judaism (ECE-RJ). Shari is a graduate of Indiana University with a Bachelors Degree in Jewish Studies and Sociology. In 1994 she studied at the Hebrew University in Jerusalem, taking courses in Jewish Education, modern Jewish culture and Jewish history. While in Israel, Shari was a Lainer intern (sponsored by the Jewish Education Service of North America – JESNA) at the National Federation of Temple Youth (NFTY) office in Jerusalem and led a six week tour of Israel for 40 Midwestern High School Students. Shari has worked at various synagogues in the Boston area as a formal and informal educator for both school-aged children and adults. She has worked in a variety of camp settings and has served as a part of the administration of several camps including Camp Breakaway, a camp for underprivileged Jewish children and currently is the Program Director of Camp Micah, New England's newest Jewish summer camp. Shari and her husband, Mike, have three beautiful daughters, Hannah, Ashley and Julia.
Amy
Deutsch
has over fifteen years of experience in Jewish education. Her passion is helping learners of all ages find their own path to Jewish life. Highlights of her career include working with college students at Tufts University Hillel, engaging teenagers across the country at the Union for Reform Judaism, teaching religious school students and creating family education programs at Central Synagogue in Manhattan, writing and editing for the Jewish parenting website Kveller.com, and consulting on various projects for The Covenant Foundation, Areyvut, and Park Slope Jewish Center. Amy's undergraduate degree is from Brandeis University and she completed a master's degree in Jewish education at the Davidson School of the Jewish Theological Seminary for which she received the prestigious Wexner Fellowship. She lives with her husband and two young children in Brookline.
A graduate of Oberlin College and Harvard Divinity School (Masters of Theological Studies), Rabbi Berkman was ordained by the Reconstructionist Rabbinical College in 2007, where she also received a Wexner Graduate Fellowship. She has served as a teacher, service leader, and officiant in a wide variety of Jewish contexts and communities. Most recently serving as Campus Rabbi and Hillel Director at Wellesley College, for six years she was rabbi of Shir Hadash, a congregation in Newton, MA. Rabbi Berkman will be teaching 6th grade at ARS and can'twait to get started.
TEACHERS
Amelia Cochin
Amelia has been a member of the Temple Ohabei Shalom community since 2001. After graduating from Boston University with a degree in Early Childhood Education, Amelia decided to return to her roots and join the teaching staff of the Trust Center for Early Education. Currently, Amelia is completing her MA in Educational Leadership and Policy Studies at Boston University. As the Assistant Director of TCEE, Amelia is excited to focus on parent engagement and staff and curriculum development. Amelia can also be found teaching in the Ansin Religious School on Tuesday afternoons. Amelia is excited to get to know all of the families at Temple Ohabei Shalom!.
Nava Eisenberg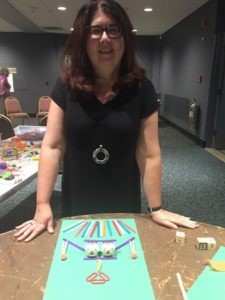 Nava Eisenberg has 28 years of experience in Jewish Education. She is exited to return to ARS. Born in Israel, she holds undergraduate degree from Tel Aviv University in Education and Theater Arts, and a certificate in Jewish Early Childhood Education from Hebrew College. Nava worked with children in wide range of ages in a variety of schools at the Boston area. She believes that every child has a unique gift and the educator's role is to find the right key to unlock it. Nava brings her love of Israel and the Hebrew language to her teaching. She uses the arts in her classroom in many ways. Nava lives in Brookline with her husband and two sons. She loves to travel, read books and enjoy theater shows as well as make mosaics or other arts.
Joe Bernstein
Joe is so excited to be a part of the ARS family as a 3rd grade teacher! Joe is a student at Emerson College working toward his BFA in Theatre Education & Performance. The child of Rabbi Karen Bender, Joe grew up with a strong Jewish foundation not only in Jewish practices, but in Jewish values and their meaning in everyday life. Joe has been teaching children for the past five years in fields ranging from performing arts to conversational Hebrew and everything in-between. In his spare time, you can find Joe writing original songs, competing at a local poetry slam, acting in plays, studying developmental or diagnostic psychology, and playing with his dog, Buster. Joe's mission as a teacher is to instill Jewish values into his students' everyday decision-making processes, and he loves every minute of it.
Debbie Betesh, 4th grade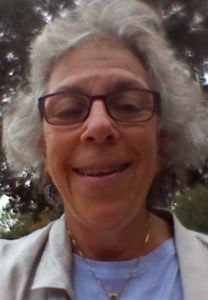 Debbie has been teaching religious school for many years in different synagogues in the greater Boston area. She's happy to be returning to ARS this year! Teaching Jewish tradition and practice, Hebrew decoding, Torah and prayer is one of her favorite activities. Facilitating learning experiences for students and watching them grow in knowledge and understanding is most rewarding. And when she's not teaching children and adults, she spends time with her family. Three of their six children are in Israel, the other 3 are in Baltimore, New York and Boston. There are 3 grandchildren (so far) in Israel and 3 in Baltimore.
Fallon Rubin, Youth & T
een Engagement Specialist
Fallon Rubin started at Temple Ohabei Shalom during her senior year at Boston University as an assistant teacher at ARS in the 2nd grade classroom. She is now the Youth and Teen Engagement Specialist, working with everyone from preschool to high school. Fallon also has a passion for Jewish overnight camp; she served as the Judaics Director at Beber Camp in Wisconsin for four years and Unit Leader at Camp Micah in Maine. Fallon's favorite thing about TOS is the warm and welcoming community.
Tue, July 17 2018
5 Av 5778
Upcoming Events
All Events
Community Tisha B'Av Services


Shabbat, Jul 21st

8:00p

to

9:00p




Temple Sinai, Temple Israel and Temple Ohabei Shalom observe the Jewish holiday of Tisha B'Av on Saturday evening, July 21 at 8:00 p.m. Temple Sinai is hosting the service this year.

Sign up now for a Special Musical Evening in preparation for High Holy Days-hosted by Mayyim Hayyim


Thursday, Sep 6th

7:00p

to

8:15p




Off site at Temple Reyim. Joey Weisenberg leads a community-wide song-learning workshop, with space for reflection and teshuva (return, repentance), and the opportunity for you to dive into the full complexity of song. No prior knowledge required. Registration required.
Join us for Shabbat services
About Ohabei Shalom
Progressive in attitude yet traditional in practice, Temple Ohabei Shalom is an inclusive Jewish community committed to nurturing, sustaining, and touching Jewish lives through lifelong learning, joyful worship, and repair of the world in word and deed.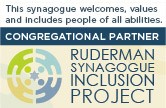 Tue, July 17 2018 5 Av 5778