ARS—Staff and Teachers
ARS—Staff and Teachers
Meet the Director, Teachers, and Staff of the Ansin Religious School
Amy Deutsch, Ansin Religious School Director
Amy
Deutsch has almost twenty years of experience in Jewish education. Her passion is helping learners of all ages find their own path to Jewish life. Highlights of her career include working with college students at Tufts University Hillel, engaging teenagers across the country at the Union for Reform Judaism, teaching religious school students and creating family education programs at Central Synagogue in Manhattan, writing and editing for the Jewish parenting website Kveller.com, and consulting on various projects for The Covenant Foundation, Areyvut, and Park Slope Jewish Center. Amy's undergraduate degree is from Brandeis University and she completed a master's degree in Jewish education at the Davidson School of the Jewish Theological Seminary for which she received the prestigious Wexner Fellowship. She lives with her husband and two children in Brookline.
Shari Churwin, Executive Director of Education
Shari has been working at Ohabei Shalom for more than twenty-two years in many different educational positions including Education Administrator, Youth Educator, and Family Educator. She now serves as our Education Director helping to direct our vision of Jewish Education. She completed a Masters Degree in Jewish Education and also holds a Certificate in Jewish Family Education from Hebrew College. Shari is a member of the National Association of Temple Educators (NATE) the National Association Education of Young People (NAEYC) and the Early Childhood Educators of Reform Judaism (ECE-RJ). Shari is a graduate of Indiana University with a Bachelors Degree in Jewish Studies and Sociology. In 1994 she studied at the Hebrew University in Jerusalem, taking courses in Jewish Education, modern Jewish culture and Jewish history. While in Israel, Shari was a Lainer intern (sponsored by the Jewish Education Service of North America – JESNA) at the National Federation of Temple Youth (NFTY) office in Jerusalem and led a six week tour of Israel for 40 Midwestern High School Students. Shari has worked at various synagogues in the Boston area as a formal and informal educator for both school-aged children and adults. She has worked in a variety of camp settings and has served as a part of the administration of several camps including Camp Breakaway, a camp for underprivileged Jewish children and currently is the Program Director of Camp Micah, New England's newest Jewish summer camp. Shari and her husband, Mike, have three beautiful daughters, Hannah, Ashley and Julia.
Josh Cohen, Music Educator
Joshua Cohen is beyond excited to continue at TOS as the Music Educator! Josh grew up in Northern California going to Jewish camps and participating in youth group activities. Before he knew it he had fallen in love with Jewish music, playing guitar, and singing. 16 years later, he is excited to bring his love of spiritual music to TOS. The last 5 years he has been fortunate enough to be a Songleader for BBYO, which has allowed him to travel the country spreading ruach to Jewish young adults. He has been living in Boston for 7 years now and has been involved with a variety of Temples in the area, but now is very happy to have finally find a home with TOS.
Cassie Dezii, Membership and Engagement Coordinator
As the Membership and Engagement Coordinator, Cassie works to connect and build relationships among all areas of our TOS community. As an educator, she believes that understanding our own Jewish identities, how we fit and can make a difference within our community is an integral part of our Jewish lives. Outside of school, Cassie is an avid baker, loves doing 1000+ piece puzzles, and dancing.
TEACHERS
Amelia Remy
Amelia has been a member of the Temple Ohabei Shalom community since 2001. After graduating from Boston University with a degree in Early Childhood Education, Amelia decided to return to her roots and join the teaching staff of the Trust Center for Early Education. Currently, Amelia is completing her MA in Educational Leadership and Policy Studies at Boston University. As the Assistant Director of TCEE, Amelia is excited to focus on parent engagement and staff and curriculum development. Amelia can also be found teaching in the Ansin Religious School on Tuesday afternoons. Amelia is excited to get to know all of the families at Temple Ohabei Shalom!.
Nava Eisenberg
Nava Eisenberg has 30 years of experience in Jewish Education. She is exited to return to ARS. Born in Israel, she holds undergraduate degree from Tel Aviv University in Education and Theater Arts, and a certificate in Jewish Early Childhood Education from Hebrew College. Nava worked with children in wide range of ages in a variety of schools at the Boston area. She believes that every child has a unique gift and the educator's role is to find the right key to unlock it. Nava brings her love of Israel and the Hebrew language to her teaching. She uses the arts in her classroom in many ways. Nava lives in Brookline with her husband and two sons. She loves to travel, read books and enjoy theater shows as well as make mosaics or other arts.
Gabrielle D'avolio
This is Gabby's fourth year working at ARS. She is excited to become involved in this wonderful community. Gabby grew up assisting her mother who had her own religious school classroom for many years. Gabby has recently graduated from Wheelock College's Elementary and Special Education Master's Program. She is currently a classroom teacher in Stoneham, MA. Outside of school, Gabby enjoys running, hiking, traveling and being with friends.
Talia Greenberg
Talia is excited to be back with the TOS community for her 4th year at ARS. Talia grew up in Brookline and studied at Oberlin College in Ohio (BA in Psychology) and Brown University in Rhode Island (MAT in Elementary Education). Over the past ten years, Talia has taught in a vast array of Jewish and general school settings, locally and abroad. Outside of ARS, Talia currently teaches 4th grade for new immigrants in the Cambridge Public Schools and 4th - 12th grade Musicianship classes with the Handel and Haydn Society. Talia enjoys singing in a Jewish a cappella group, tap dancing, solving puzzles, and learning foreign languages in her free time.
Debbie Betesh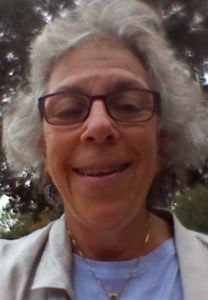 Debbie has been teaching religious school for many years in different synagogues in the greater Boston area. She's happy to be returning to ARS this year! Teaching Jewish tradition and practice, Hebrew decoding, Torah and prayer is one of her favorite activities. Facilitating learning experiences for students and watching them grow in knowledge and understanding is most rewarding. When she's not teaching children and adults, she spends time with her family. Debbie and her husband Victor's six adult children, and their families, live in Israel, Maryland, New Jersey and Boston.

Jen Whitman
This is Jen's 9th year working at ARS. She started off as a classroom aide while she was in college at Boston University and was the Youth Educator for several years after graduating. Jen now has a Master's in Elementary and Special Education from Wheelock College and teaches 5th grade English and Social Studies in Stoneham, MA.
Cantor Maayan Harel
This past June, Maayan graduated from Hebrew College's COSEL program (joint Cantorial Ordination and Master's degree in Jewish Education). She began teaching at TOS as a B'nei Mitzvah tutor two years ago, and she is very much looking forward to being in the classroom as well this year. Maayan loves most watching the immense growth in her students, both in the classroom, and as human beings, throughout the year. When not at TOS, Maayan is the Cantor at Temple Sinai, right down the street. Maayan's summer adventure was getting Ollie, a golden doodle puppy. You can find her and Ollie roaming the streets of Brookline, always with a bag of dog treats!
Abbi Hirschfeld
Abbi Hirschfeld recently moved from San Diego, California to Boston to earn her Master's in Social Work at Boston University. Wherever she goes, she finds ways to share her love of Judaism and Jewish music. For the past fifteen years, Abbi has played her guitar and sung Jewish music with children and adults of all ages. She believes that music brings people together and helps create a deep and meaningful connection to Judaism. Abbi also has a bachelor's degree in child development and has taught early childhood education and religious school classes for the past eight years. She believes in creating a joyful, inclusive classroom space where learning is fun and hands-on. When she's not song-leading or teaching religious school, you can find Abbi studying, teaching Hebrew school, and spending time with her cat, Birdie.
Cantor Jeri Robins
An experienced teacher and educational leader, with more than a decade of experience, Cantor Jeri Robins is excited to be part of the TOS community, having taught both 2nd and 3rd grade at ARS. Whether on the pulpit or in the classroom, teaching a group of children or adults, she loves sharing her passion and enthusiasm and strives to inspire a strong sense of Jewish identity and values. When not at ARS, Cantor Jeri is the Cantor at Beth El Temple Center in Belmont and the Director of Education at Temple Chayai Shalom in Easton; in addition, she works with private students preparing to become Bar/Bat Mitzvah. Ordained at Hebrew College, Cantor Jeri also holds a Master's degree in Jewish Education. She earned her undergraduate degree from Carnegie-Mellon University in Pittsburgh and an MBA from the Sloan School of Management at MIT. A resident of Newton, she shares her life with her husband, Steve and dog, Fiyero. Her son lives in Washington, DC and her daughter lives in Israel.
Wed, September 28 2022
3 Tishrei 5783
About Ohabei Shalom
Progressive in attitude yet traditional in practice, Temple Ohabei Shalom is an inclusive Jewish community committed to nurturing, sustaining, and touching Jewish lives through lifelong learning, joyful worship, and repair of the world in word and deed.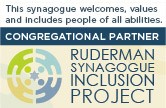 Contact Us
Our phone lines are open daily from 9:00am- 5:00pm.

If a lifecycle emergency occurs after hours, please call: 617.651.0585
Wed, September 28 2022 3 Tishrei 5783