ARS (Religious School) Events
ARS (Religious School) Events
Sat, May 30 2020
7 Sivan 5780
Our Most Recent Blog Posts
Music at TOS
Check out our music page HERE.
Below, musical voices from our present and our past join together to present a fun version of Nava Tehila's Ya'aloz Sadai, two lines from Psalm 96. Read about it (who is singing, and the history of the piece) here.
About Ohabei Shalom
Progressive in attitude yet traditional in practice, Temple Ohabei Shalom is an inclusive Jewish community committed to nurturing, sustaining, and touching Jewish lives through lifelong learning, joyful worship, and repair of the world in word and deed.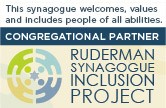 Sat, May 30 2020 7 Sivan 5780