ARS—High School
ARS—High School (8-12 Grades)
TOS Teens : Our High School Program
TOS offers a variety of programs to our teens (grades 8-12) that are designed to give variety of opportunities to learn, create community, and give back to the world.
TOS Teens is flexible; teens can opt in and out of programs as they choose. Our programs combine traditional and experiential Jewish education, providing a welcoming and inclusive community for Jewish teens.
*As we navigate the current health crisis, we will continue to update our plans as quickly as possible. We thank you for your patience and are here to answer any questions you may have. You can email us at ars@ohabei.org or call the Education Office at (617) 264-2801.
Program Options
Programming for 8th & 9th Graders:
Jews in the News
This current events class will be a way for teens to think through what's going on in our world within the context of Jewish values. Topics will include Black Lives Matter, the election, the pandemic, and more. Tuesdays at 6:30 pm (this class will only run if we have enough teens interested; we need a minimum of 6 students).
Rosh Chodesh/Shevet Achim Groups
These weekly classes are separated by gender, and revolve around curriculum from Moving Traditions (the organization that gave us a grant for b'nei mitzvah programming). The coursework was developed by educators, rabbis, social workers, and psychologists to address the real needs of teen girls and teen boys within a rich Jewish context. It was the first program to draw on Jewish teachings and traditions to keep girls and boys healthy and whole, instilling in them the ability to counter narrow views of gender in popular culture. Weekly, Tuesdays at 7:30 pm.
Programming for 10th & 11th Graders
Confirmation with our Rabbis
Teens explore big topics with the Rabbis: What does it mean to be Jewish? How do we understand our relationship with Israel? What Jewish traditions are important to us? and more! Confirmation class culminates with a Confirmation Service, where the teens get to address the congregation. This class will run in the winter trimester, from December - March. Tuesday nights, 7:00pm. (This class may be fully remote, depending on the pandemic situation in December.)
Programming for All Grades
Madrichim Training Class - How to Be a Classroom Assistant
Though the classroom looks different these days than it used to, this is a great time to learn how to be a better assistant teacher! This short class will review some great teaching techniques and help support students who'd like to work at ARS (or in any other setting with children). This class will run in the fall trimester from October - December. Based on interest, we will finalize a date and time. Please email Amy (adeutsch@ohabei.org) if this is something that your child would like to do.
The Tent – classes at Temple Israel
As a partner organization, TOS students can participate in these classes. This year they are offering a hybrid model of virtual classes weekly, and opportunities to be in person (following safety protocols) once a month. You can find out more information about classes here. The classes cost $200 per trimester, or $600 for the full year, and it's easy to give it a try before committing! Classes meet on Monday nights. Sign up here.
There is a one-time fee of $500 to participate in TOS Teens, and an additional $200-$600 to participate in The Tent at Temple Israel. Certain programs, like travel programs, will have additional costs.
To register for TOS Teens, click here. For registration information for The Tent at Temple Israel, please sign up here.
Thu, May 19 2022
18 Iyar 5782
About Ohabei Shalom
Progressive in attitude yet traditional in practice, Temple Ohabei Shalom is an inclusive Jewish community committed to nurturing, sustaining, and touching Jewish lives through lifelong learning, joyful worship, and repair of the world in word and deed.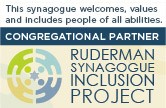 Contact Us
Our phone lines are open daily from 9:00am- 5:00pm.

If a lifecycle emergency occurs after hours, please call: 617.651.0584
Thu, May 19 2022 18 Iyar 5782