Accessibility and Inclusion
Accessibility and Inclusion
Guided by the core teaching that all humanity is created b'tzelem Elohim (in the image of God), Temple Ohabei Shalom strives to create a welcoming and inclusive experience for all. Members and guests alike are cherished as they are and fully embraced by the community. It is our deeply-held belief that we are all unique and that we all have unique needs. In our infinite variety, we are one community.
With our Sanctuary reconstruction project (you can still donate) we are thrilled at the opportunity to bring our intentions more fully to life, with a lowered and wheelchair-accessible bima and modernized facilities. Additionally, our schools and event spaces are fully accessible and inclusive, with elevator access and gender-neutral, wheelchair-accessible restroom facilities. Teachers and staff have been trained in awareness of diverse needs, learning styles, gender expressions, and sexual orientations.
Public Transportation
We are located directly across the street from the Kent Street Station on the C line, at the corner of Beacon and Powell Streets. We are just a few blocks from the St. Mary's Station on the C line, and the Longwood Station on the D line, which are both equipped with wheelchair ramps.
Accessible Entrances
There are three accessible entrances at Temple Ohabei Shalom:
• on Marshal Street, directly off the parking lot
• on Beacon Street, Rosenfield doors (glass doors halfway between Kent and Marshal Streets)
• behind the parking lot, (near the shed) leading directly to Sanctuary
Accessibility in Worship
Large-print prayer books and assisted-hearing devices are available upon request. Please speak to your usher for assistance.
The Peace Room
The Temple Ohabei Shalom Inclusion Committee has worked many months to create a beautiful Peace Room complete with inspiring artwork. The Peace Room is located adjacent to Rabbi Berkman's study. It consists of comfortable seating, space for wheelchairs and other accessibility devices, sensory tools, soft lighting, weighted blankets, noise-canceling headphones, and a variety of stress-management resources. Access to the Peace Room is available at public events for anyone who might need a break due to sensory or other personal challenges. (All children must be supervised by an adult.)
The Peace Room is generously sponsored by Jeremy & Jill Grossman.
Rest Rooms
Accessible rest rooms are available adjacent to all classrooms, as well as the Sanctuary, Chapel, Penn-Spero and Lissner Hall. Several of our rest rooms are designated as all-gender facilities, and most are equipped with changing tables.
Accessible and Companion Seating
Seats for optimal accessiblity are located throughout the Sanctuary for comfort of choice. Companion seats are available in both the Sanctuary and the Chapel for people who use wheelchairs and other mobility devices. Please speak to your usher for assistance.
We are here for you
If you have a need that has not been addressed in this page, please let us know so that we can address it together. Contact the office at 617 277-6610 or email us at office@ohabei.org.
Sun, November 17 2019
19 Cheshvan 5780
Interfaith Thanksgiving
November 24 3:30 Temple Beth Zion
Join the Brookline Interfaith communities, Rabbi Schaefer, members of our choir, and Too Klez for Comfort, as we celebrate Thanksgiving together. Details.
Help make TOS events the best they can be!
Join us for Shabbat services
Upcoming Events
All Events
Monthly Women's Rosh Chodesh Group with Rabbi Audrey Marcus Berkman


Wednesday, Nov 20th

7:00p

to

8:30p




Come celebrate the beginning of each new Jewish month with women of all ages from 13 - 113. We'll have the chance to schmooze, learn, enjoy activities and just connect with one another, offering a variety of ways into Jewish learning, community and living.

You, The Jury


Thursday, Nov 21st

7:00p

to

8:30p




Three-part class involving Torah study in a courtroom setting. Attorneys Len Davidson and Larry Green create closing arguments. Judge/Rabbi Schaefer will preside over the sessions. Class attendees will serve as jurors in deciding the following three cases following presentation of closing arguments: Session 1: People v. Abraham Session 2: Esau v. Rebecca and Jacob Session 3: Moses' Motion for Reconsideration Come to one, two, or all three!

Shabbat Morning B'yachad


Shabbat, Nov 23rd

10:00a

to

1:30p




A morning of community and learning! All ages, stages & backgrounds welcome! Come when you can, leave when you need to. Warm up with coffee and bagels, study a little Torah, enjoy our Shabbat morning or Tot Shabbat service, and stay for a Kiddush lunch. Free child care is available if the little ones need a break!

Shabbat B'yachad


Friday, Dec 6th

5:30p

to

8:00p




Come and join us for an evening of community, worship, good food, and good friends. If you're coming for the Tot Shabbat service, it begins at 5:30 pm. Dinner begins at 6:00 pm; services and oneg are at 7:00 pm. We look forward to seening you and sharing Shabbat together.

Soul Cycle: Spiritual Insights into the Jewish Holiday Cycle Taught by Rabbi Daniel Schaefer and Rabbinic Intern Ryan Leszner


Thursday, Dec 12th

6:30p

to

8:00p




Select Thursdays, 6:30 pm The cycle of the Jewish year provides us with a road-map for spiritual growth and development. Come nourish your soul with song, meditation, and learning as we journey through the Jewish year. Each session will focus on a couple stories and prayers as we mindfully attune our souls to themes of the season.
About Ohabei Shalom
Progressive in attitude yet traditional in practice, Temple Ohabei Shalom is an inclusive Jewish community committed to nurturing, sustaining, and touching Jewish lives through lifelong learning, joyful worship, and repair of the world in word and deed.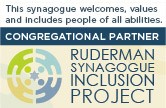 Sun, November 17 2019 19 Cheshvan 5780